How using market data in everyday selling increases productivity and grows revenue
Property sales leaders often only have the ability to examine the trends for their own property, making it impossible to see the landscape of their market. To deliver key market insights in a fast, easy-to-consume (and share) view, Knowland's newly released feature, Market Snapshot, adds self-service market trends to better guide group sales strategies and grow market share. Market Snapshot overcomes this challenge by making insights into market performance readily available to influence everyday selling.
Streamlining Sales Efforts through Market Trends
In today's shifting market, it's important to quickly discover and identify group business trends. This ensures a property can take full advantage of the opportunities in its market to drive success.
Market Snapshot helps sales leaders understand overall market performance by providing easy access to key performance indicators such as booking pace, the average number of bookings per property in the market, along with the average estimated attendees, and the average square footage used per booking. Sales leaders can visualize performance over time with fully customizable time periods and comparison date ranges to see how trends are changing over time.
Top market KPIs at a glance!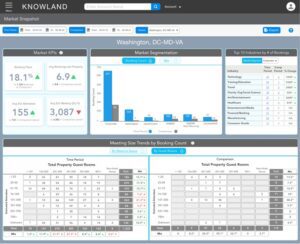 Enabling focused sales actions based on the accounts driving the market will align your sales efforts. By understanding a market's segmentation, sales teams can isolate the segments and industries generating business and drill down to specific bookings and accounts to fuel prospecting efforts.
With meeting size trends, users can identify threats in shifting market conditions. This ability to recognize when smaller or larger properties become competitors provides the acumen sales leaders need to stay ahead.
Unleash the Power of Understanding Market Performance
Market Snapshot was developed to provide sales teams with an in-depth market view fueled by booking data in a simple action-ready view. Unleashing the power of self-service market analytics, Market Snapshot enables teams to surface market trends and share those insights easily at the property and above-property levels.
View top accounts in your market, by segment with one click.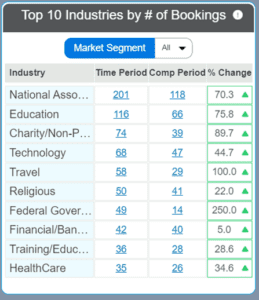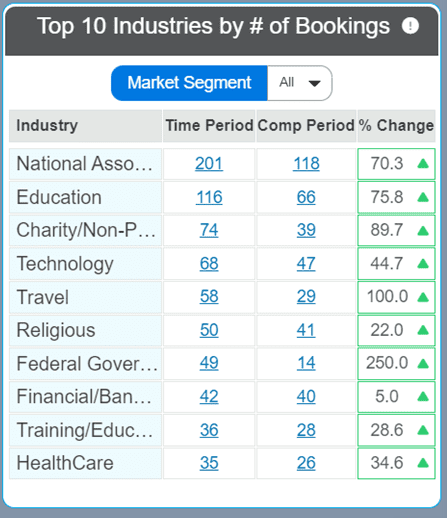 Other key elements of Market Snapshot include the ability to:
Gauge overall market performance and identify the average number of bookings per property, estimated attendees, and average square footage used per event. Then review performance over time with customizable date ranges.
Drill into market segmentation to review business mix and highlight the industries driving business in your market. Then uncover the active accounts with a simple click.
Analyze meeting space trends to make data-driven space utilization decisions. Connect guest room inventory to meeting size and better understand if smaller or larger properties are becoming competitors.
These insights are available at a glance in the Knowland platform, so understanding market performance is as easy as opening your browser.