Market trends can inform hotel lead generation and increase revenue. Understanding market trends is key to a successful group sales strategy that generates quality hotel sales leads. Identifying customer buying patterns, estimated attendees, and meeting room size requirements for events can provide insight into both short-term needs and long-term goals.
To successfully forecast future customer needs, it is crucial to understand the current business mix. This includes tracking industry segments driving revenue in your market and keeping an eye on active accounts that can be your top hotel sales leads.
Examining hospitality industry market trends prepares leaders for potential problems—like shifts in meeting size, to prepare lead generation strategies accordingly. Leaders can identify challenges arising from changing industry dynamics and address them to prepare their properties for the future.
 Let's take a closer look at Knowland's Market Snapshot from a use case perspective. These insights can inform your team on key strategies that generate hotel sales leads and ensure group sales success.
Using Market Snapshot in the Hotel Industry
Market trends can be applied throughout sales processes and inform sales conversations. However, their impact can vary across leadership roles.  Let's examine how hotel industry trends can assist general managers and sales managers when building a sales strategy. 
General Managers
General Managers are regularly asked to update asset managers, ownership, and other stakeholders on the state of their market. Using Market KPIs, a GM can easily access group trends with comparison period statistics to uncover insights they can report up or outside the property.
Review the details displayed in the market KPIs, which include: Booking Pace, Average Bookings per Property, Average Estimated Attendees, and Average Estimated Meeting Space Used for that market. For each metric, comparison details help you identify how key performance indicators may be changing. You can then compare this information to your own property metrics to gauge property performance relative to the market.
Know market trends at a glance to
compare your hotel performance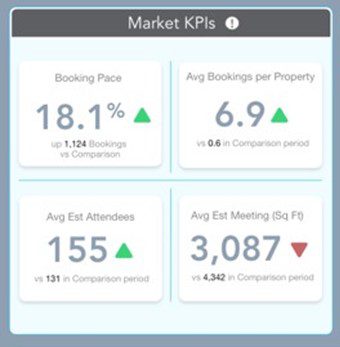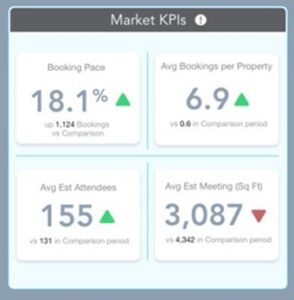 Sales Managers
Sales Managers- have limited time to prospect and need to identify the best prospects by targeting the most active industries in their market. Using the Top 10 Industries by Number of Bookings, they can see industries with the most bookings in their market and understand which industries are growing fastest. This allows them to create a tailored prospecting strategy around top industry trends.
Learn top target accounts in the fastest growing
industry segments with one click.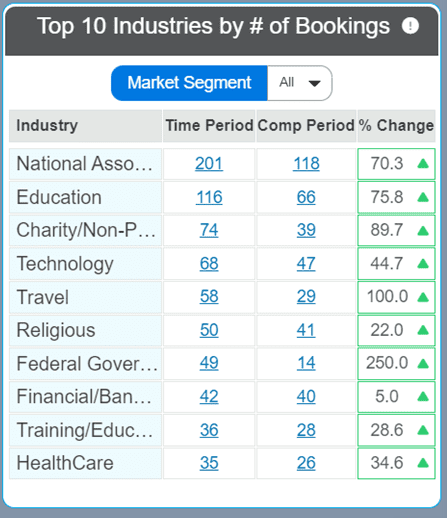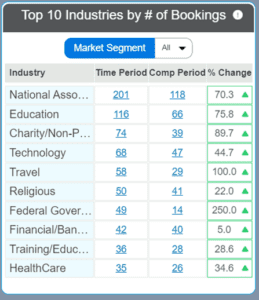 Directors of Sales & Marketing need to understand if different-sized properties are poaching business. What they don't have is the data to support that theory or understand the severity of the problem. The Meeting Size Trends by Booking Count feature allows you to monitor shifts in your market's meeting distribution and pinpoint when smaller or larger properties are becoming competitors.
Uncover Shifts in Meeting Size Trends


Uncover Shifts in Meeting Size Trends
Knowland developed Market Snapshot to provide sales teams with an in-depth market view fueled by actionable booking data. Unleashing the power of self-service market analytics, Market Snapshot enables teams to surface market trends and share those insights easily at the property and above-property levels.