Meetings and events ready for the long holiday weekend
Summer season fluctuations continue as the long Fourth of July holiday comes up at the end of this week. Meetings and events decreased by 16.1% compared to the prior week. After this next week, event activity is expected to rebound in the weeks after the extended holiday.
The average number of attendees for the week was 78 people, while the average square footage used was 1,764 per event and square feet used per person was 23.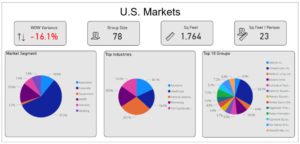 The corporate market segment represented 57.5% of overall business for the week. This week, Training and Education made it into the top five segments: National Association, Technology, Healthcare, Education, and Training/Education.
Markets with the highest week over week variance for number of meetings were Washington DC, Long Island, Denver, Anaheim, and New Mexico North. New Mexico North led with the highest average attendees at 143.
| | | |
| --- | --- | --- |
| Market | Average Attendees | Average Square Footage Used |
| Washington DC MD VA | 84 | 1,990 |
| Long Island, NY | 82 | 2,014 |
| Denver, CO | 54 | 1,344 |
| Anaheim – Santa Ana, CA | 102 | 2.520 |
| New Mexico North | 143 | 2,295 |
These numbers and markets change weekly, with this week showing some growth in non-top 25 markets, specifically New Mexico North and Long Island, which is positive for overall market recovery.
Knowland tracks the weekly event activity across 108 markets across the United States.
Ready to see what is happening in your market today? Schedule a free market analysis to find out.