Corporate Event Volume Fully Recovered to 2019 Levels in the Middle East
By: Kristi White, Chief Product Officer, Knowland
At the end of June 2022, we looked at the Middle East and how it was recovering. The metric we reviewed was corporate business and its level of recovery. At that time, corporate meetings and events were recovered at 133.1 percent of 2019 levels.
In Q3 2022, that position compared to the recovery dropped slightly but is still well ahead of 2019.
At the end of September, corporate meetings and events are recovered at 132.6 percent of 2019 levels. The Middle East continues to be the only region where corporate business is fully recovered.
Diving into the numbers, there are pockets where the recovery is not quite as robust. Looking at the top 10 industry segments in 2019 provides a clearer image of this.
Top 10 Industry Segments Slightly Behind the Region Overall
While the region, as a whole, sits at 132.6 percent recovered, the top 10 segments from 2019 are a bit lower at 115 percent.
Five of the segments are fully recovered to 2019. Those segments (Travel, Consulting, Healthcare, Technology, and Manufacturing) are recovered at 160.0 percent vs. 2019. Additionally, Travel now makes up 15.8 percent of overall corporate business compared to 9.6 percent in 2019.
For the remaining segments (Financial/Banking, Training/Education, Biotechnology, Pharmaceutical, and Oil/Gas/Energy), The recovery metric is at 76.3 percent, decidedly lower than the region and the other five segments. Additionally, in 2019, these five segments comprised 8.6 percent of overall corporate business and now they only represent 4.9 percent.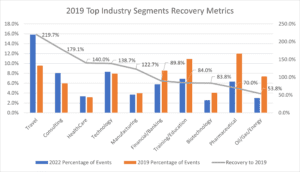 As a final note on the top 10 segments from 2019, their share of the overall mix has shifted dramatically. In 2019, these ten segments represented 73.5% of overall corporate business for the region. Through the end of Q3, they represent 63.8%. Most of this is likely being driven by the laggard recovery of the five segments (Financial/Banking, Training/Education, Biotechnology, Pharmaceutical, and Oil/Gas/Energy). However, all five of these segments are lagging elsewhere in the world. So, this might be the new normal for these segments and something hotels need to prepare to deal with going forward.
New Industry Segments Emerging
Shifting gears, to the Top 10 in 2022. These segments are almost identical to those in 2019. Last quarter Marketing/Advertising was in the tenth position, but it was replaced by Fashion/Apparel this quarter. The addition of this sub-segment also increased the recovery metric to 121.5 percent. Additionally, this segment (Fashion/Apparel) represents 2.9 percent of overall corporate bookings in 2022 vs. 0.6 percent in 2019. This is a significant shift in mix. While this might just be due to recovery, it is likely this is a permanent shift and hotels should watch this segment closely.
2022 Top Industry Segments Recovery

Industry Sub Segment
2022 Percentage of Events
2019 Percentage of Events
Recovery to 2019
Travel
15.8%
9.6%
219.7%
Technology
8.3%
7.9%
138.7%
Consulting
8.0%
6.0%
179.1%
Training/Education
6.9%
10.9%
84.0%
Pharmaceutical
6.3%
12.0%
70.0%
Financial/Banking
5.8%
8.6%
89.8%
Manufacturing
3.7%
4.0%
122.7%
HealthCare
3.4%
3.2%
140.0%
Oil/Gas/Energy
3.0%
7.4%
53.8%
Fashion/Apparel
2.9%
0.6%
663.6%
Totals
64.1%
70.0%
121.5%
Now, let's look at the recovery metrics from the perspective of those segments most recovered.  Only one of these (Fashion/Apparel) segments is in the Top 10 (for 2022) which means they reflect new opportunity for hotels. Year to date, they represent 12.4 percent of overall corporate meetings compared to 2019 where they represented only 4.0 percent.
Developing relationships with companies in these segments early will help create long-term, valuable connections to benefit your hotel today and into the future. These segments are driving the strong recovery in the region. This is even more important as some of the top segments from 2019 might never fully recover.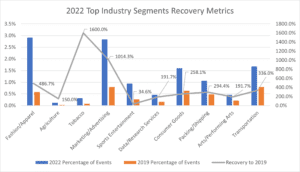 The Middle East Compared to the U.S. and APAC
The Middle East continues to recover ahead of other regions of the world in the corporate segment. Year to date, the United States is recovered at 66.5 percent (although in Q3, they are recovered at 86.3 percent). APAC is recovered at 64.2 percent (86.4 percent in Q3). The 132.6 percent recovery in the Middle East places it well ahead of the remainder of the world and positions the region for an even stronger 2023.
As strong as the recovery is, there are still segments struggling to recover. Savvy sales teams need to work with companies in those segments to understand if this sluggishness is temporary or permanent. Knowing and understanding this now will help hoteliers build better plans for the future.
About Kristi White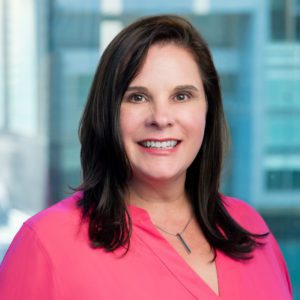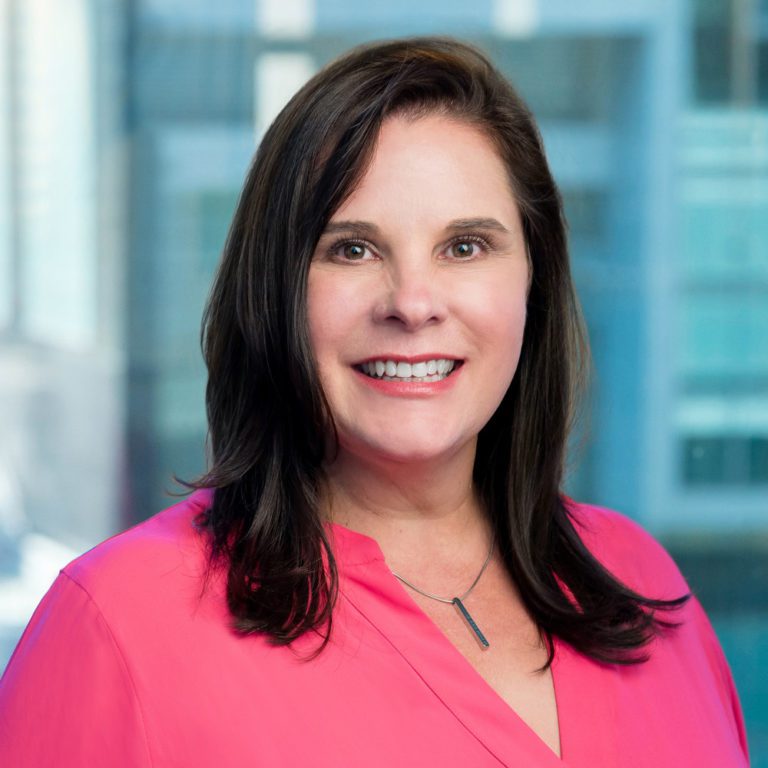 As a hospitality veteran by trade, with two decades of experience in the global hotel and revenue management side of the industry, Kristi has a pulse on the needs of hospitality group business. She has advised hundreds of hotels worldwide on improving their business strategy, hotel performance, and overall profitability. She is a recognized expert in hospitality and a frequent speaker at industry conferences and universities, as well as a former member of the Board of Directors for the HSMAI Revenue Management Special Interest Group.
For information on Knowland data insights or solutions for the Middle East market, contact us at info@knowland.com or reach out to our local representative Erika Bucsi, Enterprise Director of Sales, EMEA & APAC at ebucsi@knowland.com.