By Ryan Layton, Data Scientist
Knowland is the only source for Convention & Visitors Bureaus (CVBs) performance and booking demand forecasting. The Knowland Quarterly Market Outlook Report aggregates, analyzes, and reports on past and future event booking data as reported by participating CVBs, to deliver actionable trending insights needed to make better strategic decisions. Leveraging publicly available information from our TAP and Knowland data sets will give you insight into this valuable booking channel that accounts for over 50% of metropolitan area bookings for hotels.
Through Q1 of 2019, the US hotel industry has shown growth in Occupancy, ADR, and RevPAR. According to STR, the 0.4%, 1.1%, and 1.5% growth rates of these KPIs respectively are, while in the right direction, growing at levels below what was projected entering the year. This deceleration can be correlated to the decrease in room nights added by both our CVB partners as well as across the industry.
As we look to our event data for Q1 2019 as seen below, we notice that Corporate has continued its upward momentum as it has increased its share by just under 1% over the same time last year. The majority of this share can be seen shifting from the Association segment, down ~1% from last year. Within the corporate industry segments, we saw the top producer last year, Training /Education, yield 1.1% share to the other corporate industry segments. Overall, the top 10 corporate industry segments fell by just over half a percent.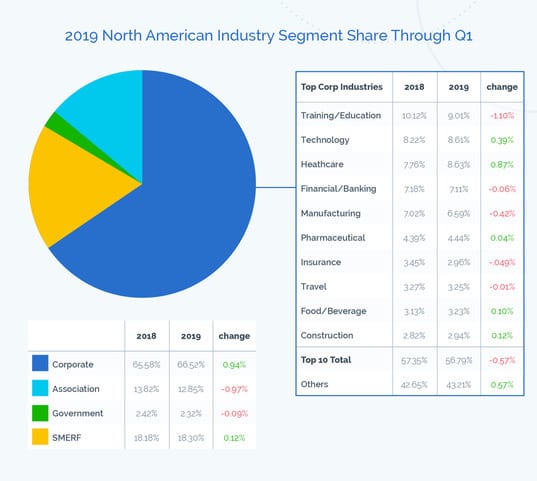 The slowdown in the rate of new bookings was accompanied by an increase in actualized business. This increase was part of a base of group business that, according to leaders of hotel brands and REITs, helped soften the blow and provided a hedge for a relatively weak first quarter. This very much aligns with what we saw entering the year. The booking window has continued to expand as the largest jump in pace was seen a full year ahead of where it was on average over the last three years. It will be interesting to see if this pattern of expanding booking windows continues.
With Q1 providing a solid base to continue through the year, we are still expecting to see growth within the Groups and Meetings segment. Much like what we saw entering the year, room nights added between Q2–Q4 for the year has fallen from 11.3% of total actualized room nights in 2015 to 10.6% in 2018. We are projecting that trend to continue and in the year for the year bookings for the remainder of 2019 to fall to 10.3%.
Looking to 2020 and beyond, the biggest dip can still be seen in 2021. With Q1 being a slower booking period, it's no surprise that we are still sitting behind in pace for what is being forecasted to be a down year for the industry. A continued effort to maximize 2021 demand by proactively sourcing group business for that time period will provide the industry an opportunity to hedge a downturn.
Our CVB data opens the door to some serious questions you should be asking yourself and your CVB partner. Download the Q1 Quarterly Market Outlook Report for free today!