By: Seth Kekessie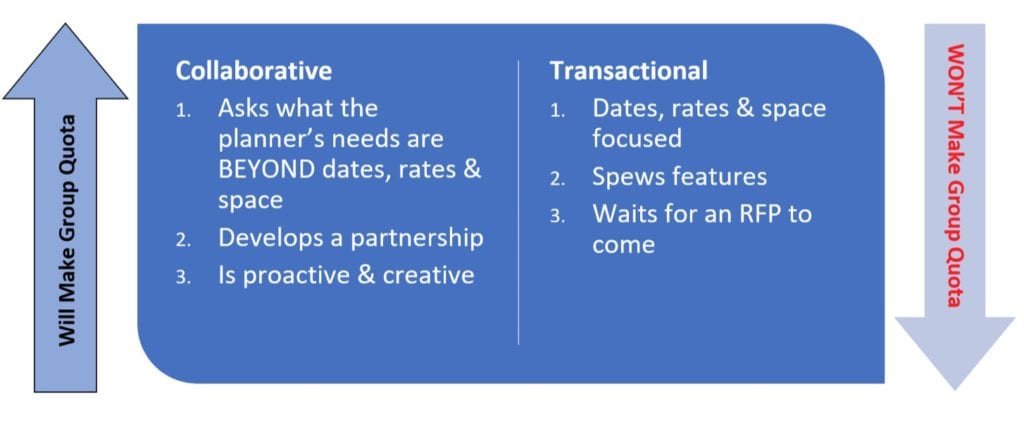 In our webcast with long-time legendary event planner, Bobby Badalamenti, we took away seven ideas hotel group sales should deploy to connect better with planners.
Get to the planner before a destination decision is made – According to grouptravel.com, the first five hotels to respond win about 75% of all requests for proposals (RFPs). What if you turned that on its head and called the planner even before an RFP came out? With the right tools, you can call the right planner at the right time, ahead of an RFP. Unless they have to or are required to by the Account, many planners do not want to put out an RFP and then sort through the responses. If ahead of an RFP you can show them you understand their needs, and can show how your hotel fits, you gain a tremendous advantage especially in the instance that they are authorized to make a decision without putting out an RFP. The right solutions give you the information you need ahead of the call.
Turn your cold calls into "warm conversations" by showing the planner you have done your homework on their past meetings – Spend the time upfront to gain a complete picture of the Account's history before calling the planner. Let's say an Account has already put out an RFP. Even if that specific meeting is not a fit, it is still an opportunity to win a different meeting by inquiring within. Keep in mind the planner is under no obligation to inform you of their other meetings, so it is incumbent upon a proactive hotel group meetings seller to go into a conversation armed with as much information as possible from other sources. Meeting planners get a lot of emails and phone calls and naturally, are inclined to engage with those who have done their homework.
Sell your destination first and your hotel second – Before calling a prospect, among other things, empower yourself with information about the event. Have an estimate of how many people met, and why you think it's a good fit for your location. Knowland with SmartSearch is your single source of historical event booking patterns in the market. As long as you have done your homework, more often than not, your hotel will align with the planners' needs because you are not doing a "cold-call" blitz. Once you sell the location, selling your hotel becomes easier.
Ask the planner about their needs first instead of telling them about your hotel's features – If you proactively called a planner who leads events that are a good fit for your property based on historical behavior, you will want to be a good listener on the call – listen to the planners needs. And with the right research in hand, you can anticipate their needs and know the answers before you even ask them any questions. You can pepper your conversation with Knowland-verified nuggets from previous meetings, and ask if the needs are the same or have evolved. That shows the planner that you took the time to understand the Account, and have a good basis to engage. And quite frankly, the planner expects this. At that point, your hotel's features may very well just become a checklist to confirm that you meet their needs.
Show the planner how you can be a partner to them and not just calling to have a dates, rates and space discussion – collaborate and ask what they value most – Insight is as much a solution that informs as to which planners you should call, as much as it informs which planners you can de-prioritize because of past behavior. Needs, of course, do change, and businesses go through cycles, but if you are prepared to show you understand the Account history, you are already ahead of your competition. Any solution that affords a differentiated or customized response allows your hotel to move the discussion beyond a "just the numbers" conversation, or a commodity play, and helps you stand out from competitors.
When proactively selling, look at the group's booking patterns from the past. Look at the size of cities they prefer, area of the country, brands they favor, etc. Use these insights to inform your communication – The trick to do this successfully is to understand past patterns of group behavior which then informs the pre-RFP call. Do they meet in properties like yours? Do they meet on a discernible meeting cadence/frequency? Have they met in a market similar to yours? Do they typically pick hotels in your chain scale? Do they tend to favor certain types of locations? Insight Elite is specifically designed to provide you answers to these questions and more!
And finally, don't wait for the planner to send you a request before you start pursuing them. If you do, every hotel around you will be in the mix – Knowland is a strong proponent of changing your source of business mix.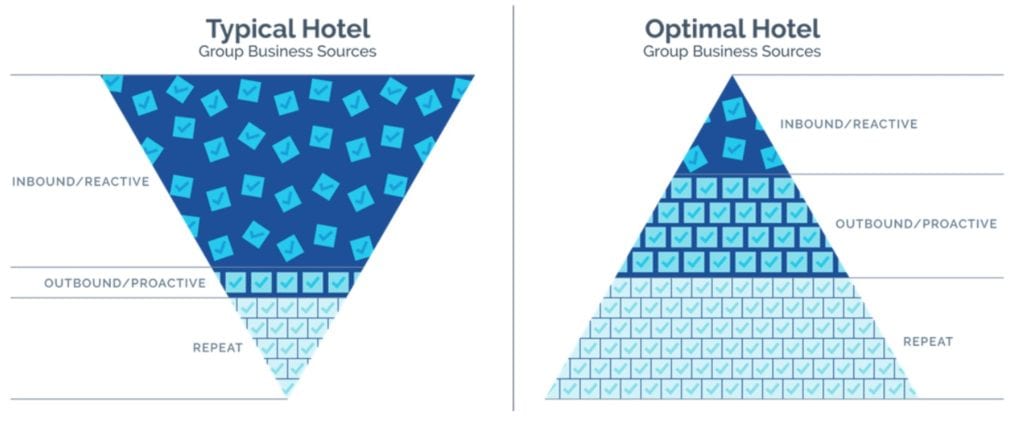 Ideally, you should have a healthy base of repeat business and layer outbound sources to create boulders of events which then get peppered with pebbles from inbound sources. If you are over-reliant on inbound, your need periods are growing, your property is underperforming, and meeting group revenue targets may be at risk, not to mention you are competing against every other property that received the same RFP, which convert at less than 5% at best. With a Proactive Group Sales Strategy, you are empowered to create a sustainable, repeatable, direct group business.
To help you get started we have developed an email template for you to use when communicating directly with planners. To use this guide, it should be modified to fit the particular situation and should be used to reach out to planners after you have done your research to find the right events and accounts for your hotel to proactively pursue and win new business.