Knowland data indicates steady growth in meetings and events
ARLINGTON, Va. — Feb. 3, 2022 — Knowland, the world's leading provider of data-as-a-service insights on meetings and events for hospitality, today released its monthly meetings and events data for January. Meetings are up 350 percent year-over-year from January of 2021 while month-over-month there was a slight decline of 16.5 percent from December 2021 to January 2022.
Register for Knowland's Outlook for the Meetings Industry Recovery 2022-2024 Webinar on February 8, 2022, 1:00 pm ET to learn more.
Average meeting metrics are at or near 2019 numbers. While volumes are not back to pre-pandemic levels, the size of meetings is stabilized to 2019. Because 2020 was extraordinary due to the pandemic, Knowland's analysis uses 2019 as a baseline.
Average attendees consistent with 2019 – The average number of attendees per event in January 2022 was 102, compared to 42 in January 2021 and 112 in January 2019. This is a sign groups are comfortable meeting in the size they used to meet but volume hasn't yet returned to pre-pandemic levels.
Average space used/attendees ratio is in line with 2019 – The average space used in January 2022 was 2,516 sq. ft. while meetings in January 2021 averaged 2,481 sq. ft. and 2,303 sq. ft. in January 2019. Proportionally, from a per person (p/p) perspective 2022 meeting space used averaged 24 sq. ft. p/p as opposed to 59 sq. ft p/p in 2021 and 21 sq. ft. p/p in 2019.
Top five market growth – The top five growth markets, in order, in January were Tampa, Orlando, Las Vegas, Daytona Beach, and Riverside-San Bernardino. These reflect those markets that have shown the most growth in January.
Corporate meetings continue to represent the largest market segment – The corporate segment represents 70.1 percent of meeting and event business with Technology, Healthcare, and Training/Education taking the lead as the largest industry groups.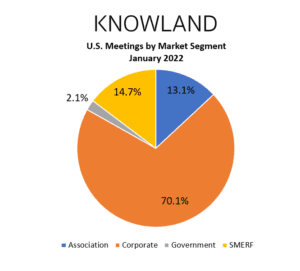 Kristi White, chief product officer, Knowland, said: "While there was a dip in meetings month over month, we don't believe it is indicative of a significant step back for the meetings industry but rather a minor pause. The size of meetings that did occur was more in line with 2019 numbers. Recovery is still happening and the capture of events to 2019 levels was up over 3 percent according to our Meeting Recovery Forecast, with December recovering 46.2 percent of 2019 meeting volume."
About the Data: Insights presented are a result of the analysis of meetings and events data acquired through Knowland data collection and aggregation methods, including field reporting and automated methods of customer and non-customer data collection in primary, secondary, and tertiary markets, as well as its large historical database.
ABOUT KNOWLAND
Knowland is the world's leading provider of data-as-a-service insights on meetings and events for hospitality. With the industry's largest historical database of actualized events, thousands of customers trust Knowland to sell group smarter and maximize their revenue. Knowland operates globally and is headquartered just outside Washington, DC. To learn more about our solutions, visit www.knowland.com or follow us on Twitter @knowlandgroup.