Shift share to your hotel by targeting groups new to your market and competitors
Do you ever wonder what accounts are new to meeting in your market? As our industry recovers, it is more important than ever before that you have the latest market data at your fingertips. It's the easiest way to shift share and build your hotel market position. That's why we are hyper-focused on developing new ways to help your hotel sales team improve productivity and hit their sales goals.
In March, we introduced the Knowland "New to Market" (NTM) widget, a  feature that will show your team the accounts that are new to booking events in your market.
This example shows accounts that are "New to Washington, DC" in the last 90 days. Check it out.

A new account is categorized as an account that has never met within a specified market or within that market in the past five years. In the new view provided by the NTM, you will see the total number of new accounts at the top, followed by a list of accounts and their market segment or industry, sorted by the most recent meeting activity.
Why use the NTM? It helps you see what new accounts have recently met in your specific market, whether it's a new account that has never booked there before, or an account returning after a long hiatus. This new view will help put these opportunities front and center with your sales team.
Located on the Knowland dashboard, it has been added as an additional tab for easy access. Filter by market (1) or time frame (2). Your markets will load automatically by default. Use the drop-down menu to search and select any market that you have access to, then the account list will update automatically based on your selected market. Additionally, there is a time frame filter that allows you to look at historical bookings from the previous 7, 30 or 90 days, or the previous year.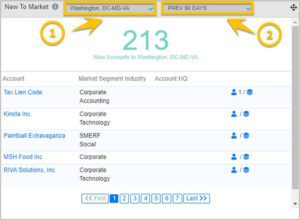 Once you are ready to act, the Knowland Platform Booking Analysis tab allows you to look at the account's detailed booking analysis. (3) Click the account name to open the Account Details page to view the booking data associated with the New to Market view. (4) You can even make account assignments right from the widget to assign your hotel sales rep to a specific account for new business development.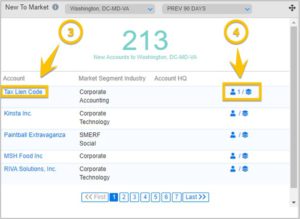 Then you can use our Estimated Revenue Calculator to review potential account value. When used together, you will be provided with actionable data to help you prioritize and win new business! It's that easy.
To learn more about the functionality of this new tool, request a quick demo!