Third consecutive week of event activity growth in the U.S.
For the week of March 6-12, 2022, there was a 6.5% increase in event activity from the prior week. This represents the third week in a row with growth for the United States.
Additionally, the average number of attendees for the week was 70 people while the average square footage used was 1,536 per event.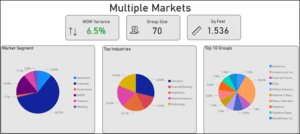 The corporate market segment represented 62.6% of overall business for the week. SMERF-Education, Manufacturing, National Association, Technology, and Training/Education were the top industry segments
The individual markets with the highest week over week growth were Seattle, Louisville, Greensboro-Winston Salem, Birmingham, and New Orleans. The average growth for these markets was 128.2% week over week.
| | | |
| --- | --- | --- |
| Market | Average Attendees | Average Square Footage Used |
| Seattle, WA | 46 | 1,548 |
| Louisville, KY | 54 | 1,126 |
| Greensboro-Winston Salem, NC | 39 | 629 |
| Birmingham, AL | 48 | 1,049 |
| New Orleans | 71 | 1,342 |
Greensboro-Winston Salem and New Orleans had the lowest space to attendee ratio while Seattle had the highest. These numbers evolve every week but are in line with trends of markets at different stages of recovery.
For more information on Knowland data trends, visit the Knowland Meeting Recovery Forecast, a prediction for the status of the U.S. and the Top 25 market and when it will reach 100%+ of 2019 market levels.
Ready to see what is happening in your market today? Schedule a free market analysis to find out.
Knowland tracks the weekly event activity across 108 markets across the United States.