Knowland's Meetings Industry Recovery Forecast, Update Q1 2024
[WEBINAR HIGHLIGHTS]
On April 20, 2022, Knowland's Kristi White presented to the industry a deep dive into its quarterly Meetings Recovery Forecast. While there is a lot of data to digest, the good news is that the industry is recovering, some markets faster than others. Those who are most productive, and taking advantage of technology to ensure their sales teams have the proper tools, are definitely seeing an uptick in capturing new group business.
Here's a deeper dive into the data. If you'd like to learn more, you can listen to the webinar here.

Let's start at the beginning of 2022
The beginning of the year started off a bit rocky. January realized a dip down from December of 2021, which is unusual under normal seasonality patterns. Typically, we see around an 11% increase from December to January.
However, this year we realized a 17.8% decrease. This is related to Omicron and we saw an immediate correction in February with a 43% increase over the prior month. The average before the pandemic was 4.5%.
March was an even bigger increase as the month-over-month increase moved to 57% compared to a normal increase of only 13%. The long and short of these numbers is the increases for February and March were robust and recovered, for most markets, enough to wipe out any losses incurred in January.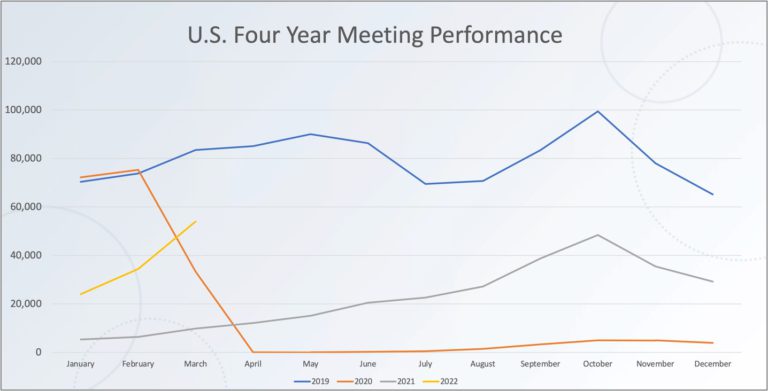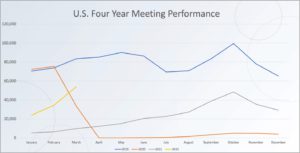 Looking at it from a capture perspective, March achieved 64.7% of 2019 volumes which is the highest we have seen a single month since the world went sideways. For the full year, recovery is sitting at 49.4% which is up from the full year of 2021 at 39.3% recovery. Another long story short, recovery is moving ahead and it's accelerating over the past two months.

Looking at the Size of Meetings
As we look at the size of meetings, for the most part, the metrics are mostly recovered. One category where there is a gap is in the under-25 category. In 2019, the numbers were dramatically higher than in 2022. These tend to shift across quarters.
However, this shift is good because the meetings shifted into the slightly larger categories. This is another sign of recovery because it shows people are getting more comfortable meeting in larger numbers.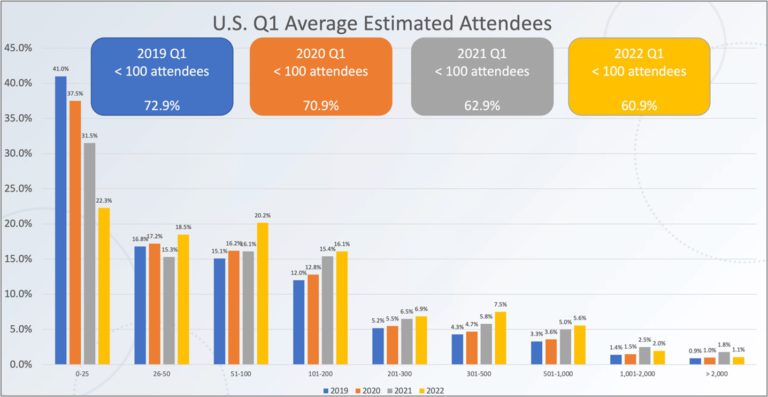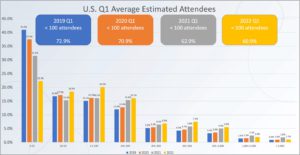 Another reason this doesn't concern us is because at the end of last year, these numbers were frighteningly similar. However, across the year, we expect there will be some fluctuations as companies return to meeting and perhaps go slightly bigger than we saw in 2021 but they return to normal meeting cadences.

Taking a look at the U.S. First Quarter Market Segmentation
All of these are stabilizing against 2019. We've seen this from Corporate for some time, but now we're starting to see Association pick up and SMERF & Wedding drop back in line with pre-pandemic times. This will likely continue as the year moves forward.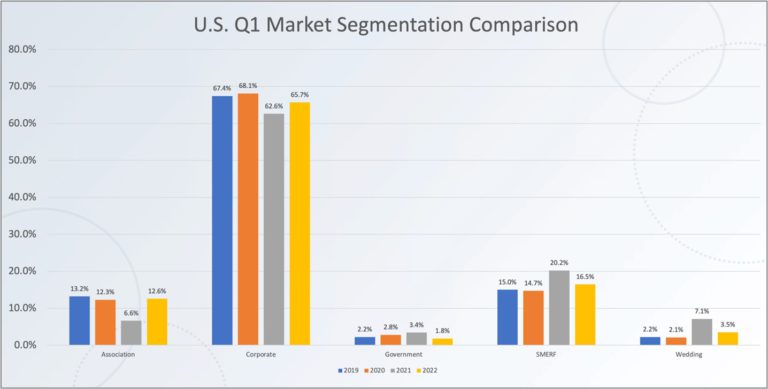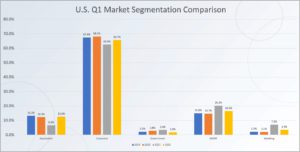 2019 Top Industry Segments
Here we look into the biggest chunk of business (the Corporate segment) and what is driving that. To orient you to the chart, the left Y axis is the percentage of corporate business produced by Industry Segment and the right Y axis is the percentage of recovery to 2019 levels.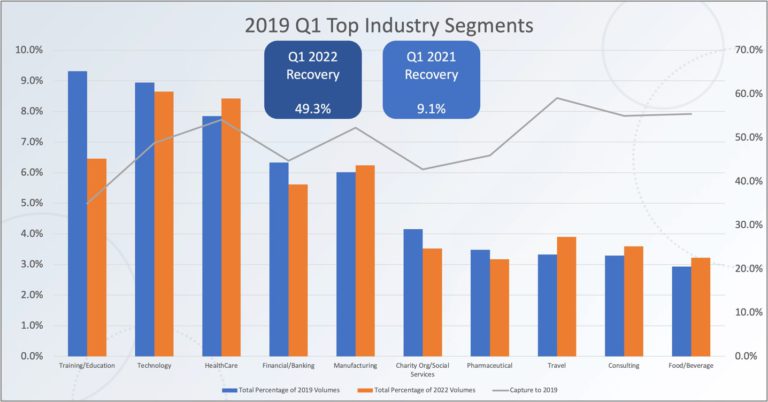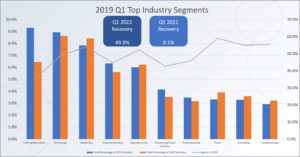 This shows us that the top 10 Industry Segments within Corporate for 2019. Next, we stack up the volume of production in 2022 for those same 10 segments. Finally, we look at what percentage of the business from 2019 has been recovered. The average recovery with these 10 segments is 49.3% of 2019 volumes. In Q1 of 2021, that recovery metric was only 9.1%.

Diving into the 2022 Top Industry Segments
If we reverse the slide above and look at the Top 10 Segments in 2022, (again, the left Y axis is the percentage of production and the right Y axis is the percentage of recovery,) nine of these are the same as 2019 although they have shifted around in order a bit.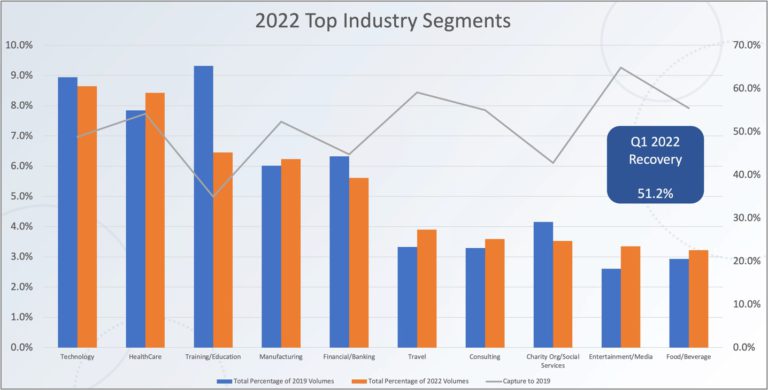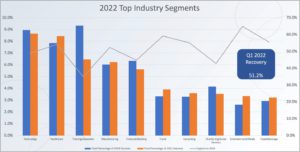 However, Entertainment/Media was not in the top 10 in 2019. The average recovery against these segments is 51.2%. E/M is driving slightly higher recovery.

2022 Most Recovered Industry Segments
As we shift to this view and look at those markets most recovered to 2019 (The axes remain the same as the previous two slides,) these segments are recovered at 83.2% of 2019 volumes and only two of these Entertainment/Media and Construction were in the top 15 much less the top 25 in 2019.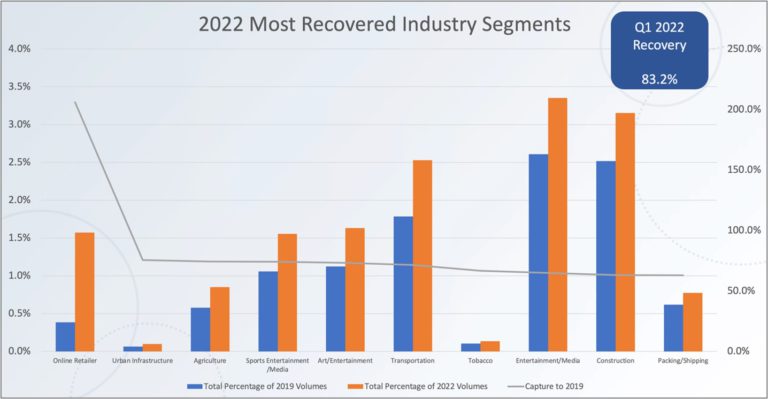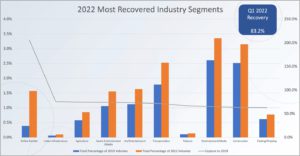 Seeing these types of shifts makes you wonder about where sales teams are hunting for business these days. There's a chance if you are still hunting in the top 10 from 2019, you might be missing some business that is recovering more quickly.

What's to Come?
Since we have a better understanding of what happened, let's look at what's to come. For the U.S., as a whole, we are holding the forecast the same as January. The forecast for the end of the year is 58.7% recovery with Q4 hovering near 70% recovery.
2023 will bring us to 87% recovery with Q4 reaching 100% recovery while 2024 will bring organic growth back to the market.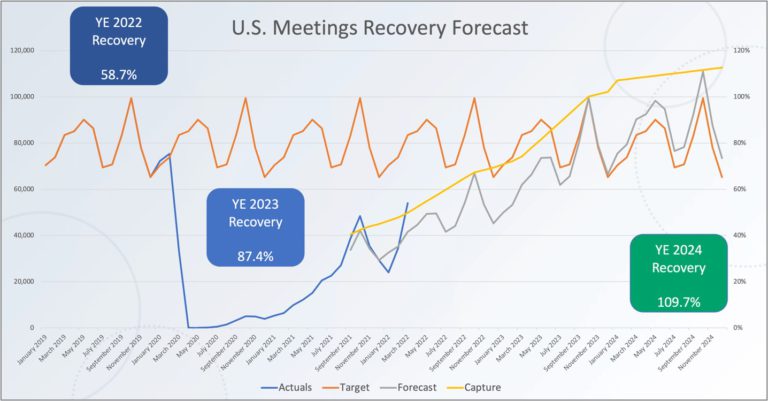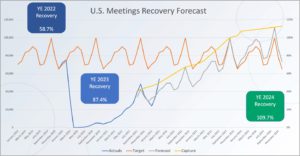 Evaluating the Top 25 Market Shifts in the First Quarter of 2022
Here we will dip into a bit more detail as we look at the Top 25 Markets where we saw the greatest movement.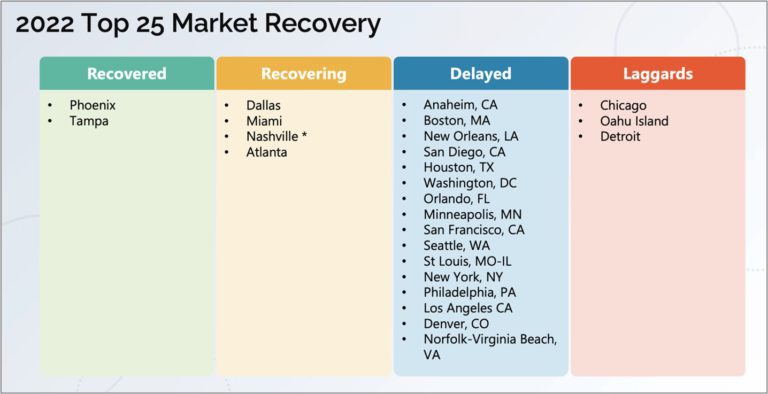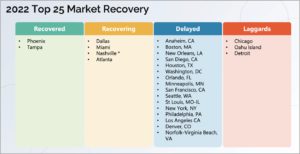 We break the market into four buckets. (These are in listed in order of percentage of recovery)
Recovered – those markets who will reach 100% or greater
Recovering those above 80%
Delayed – those markets falling between 50-80%
Laggards – those falling below 50%
Two markets hit into the Recovered category in 2022. This is the same as we saw in February. These markets experienced only minor dips in January and February while March rebounded enough to wipe out that dip and maintain stable recovery.
In the Recovering category, Dallas, Miami, & Atlanta performed well enough to maintain their positions. We do have a new entry in this bucket as Nashville exceeded all expectations and shifted from the Delayed Category into the Recovering Category which means they will end the year at 80% or greater recovered.
The Delayed category also saw some movement. While there are still sixteen markets here, there were three shifts. One moved up a bucket (Nashville), one moved down to the Laggards category (Chicago) and Norfolk moved from laggards to Delayed. Additionally, several markets moved spots. The top five on this list are nearer the top of this bucket (50-80%) and if Q2 continues to perform the way March did, could possibly move up a bucket in the next forecast.
Finally, three are in the Laggards category. Oahu Island and Detroit were in this category in February but, as I mentioned earlier, Chicago moved from Delayed to Laggards based upon Q1 performance. This is a market we have kept a close eye on as historically, it is the single most robust meeting market in the U.S. So it's laggard performance does give us pause. What we don't know at this time is if this is a permanent shift to other markets because of its lengthy quarantine or if business will shift back as more and more things reopen and the city returns to normal.

2023 Top 25 Market Recovery
Next let's look at 2023 and beyond. Remember shifts in this area will either accelerate or delay future performance.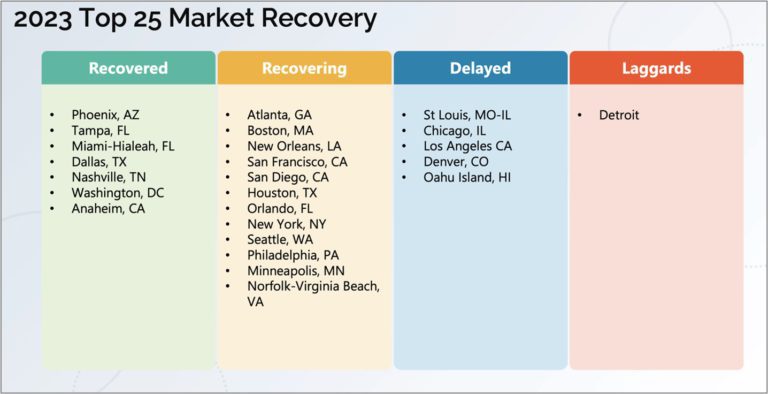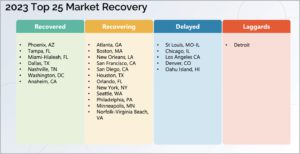 Shifting into 2023, seven will fall into recovered.  Three of these shifted from other buckets this quarter
Nashville, Washington, DC, Anaheim shifted
In the Recovering category, there are 12 markets.
Four of these moved up from Delayed to Recovering: Seattle, Philadelphia, Minneapolis, & Norfolk
Three shifted down from Recovered to Recovering: Atlanta, San Francisco, & Houston
There are five markets in the Delayed category. All but one of these markets were in this bucket last quarter. Chicago dropped into this bucket this quarter.
Finally, there is only one market still in the Laggard bucket and that is Detroit. Detroit had been struggling before COVID and it will take a long time for this one to come back and it might be that we need to adjust the expectations for 2019 recovery for Detroit.

2024 Top 25 Market Recovery
In 2024, all but four of the markets will be fully recovered. Three will be in the recovering category and one will be the delayed category. Atlanta & Chicago are the markets that shifted.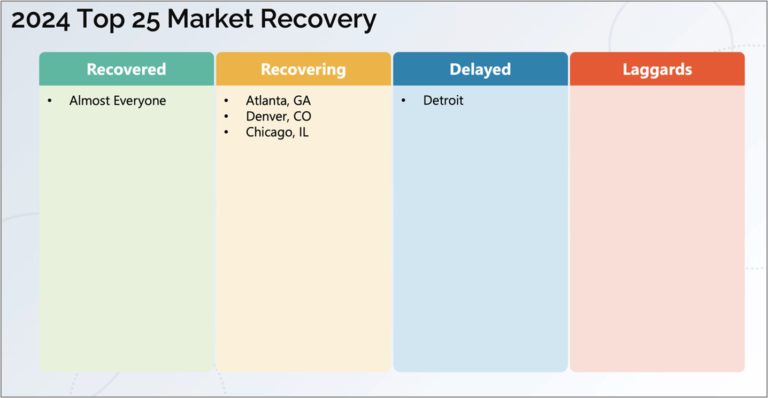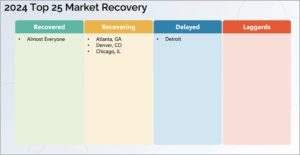 For the most part, by Q4 of 2023 the top 25 will start experiencing organic growth. There are a few markets that will get there earlier but full recovery is both near and far.
To learn more about how Knowland data insights can help increase hotel revenue, talk to a data expert today.