Event activity rebounds as summer begins
There has been a rebound after seeing a decline in the U.S. market due to Memorial Day weekend. Meetings and events increased by 41.4% compared to the prior week. The next few weeks should continue to grow as we move further away from the holiday and into the summer.
The average number of attendees for the week was 79 people, while the average square footage used was 1,845 per event.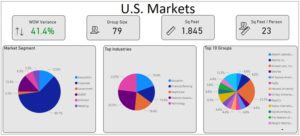 The corporate market segment represented 60.7% of overall business for the week. National Association, Technology, Education, Healthcare, and Financial/Banking were the top industry segments
Markets with the highest week over week growth were Washington, DC, San Francisco-San Mateo, Chicago, Minneapolis-St Paul, and Boston. The average growth for these markets was 53.7% week over week.
| | | |
| --- | --- | --- |
| Market | Average Attendees | Average Square Footage Used |
| Washington, DC-MD-VA | 81 | 2,065 |
| San Francisco – San Mateo, CA | 44 | 853 |
| Chicago, IL | 75 | 1,820 |
| Minneapolis-St Paul, MN-WI | 85 | 1,705 |
| Boston, MA | 72 | 1,586 |
San Francisco – San Mateo, CA and Minneapolis-St Paul, MN-WI had the lowest space to attendee ratio while Washington, DC had the highest. These numbers evolve every week but are in line with trends of markets at different stages of recovery.
Knowland tracks the weekly event activity across 108 markets across the United States.
Ready to see what is happening in your market today? Schedule a free market analysis to find out.