Week over week event activity reflects Memorial Day Holiday
After 5 weeks of consecutive growth, the U.S. market experienced native seasonality trends last week, decreasing 12.8% compared to the prior week. The decline was anticipated as it is normal behavior in the week heading into Memorial Day weekend.
The average number of attendees for the week was 83 people, while the average square footage used was 1,848 per event.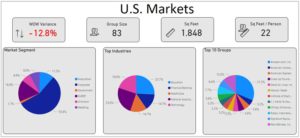 The corporate market segment represented 55.6% of overall business for the week. Education, National Association, Technology, Financial/Banking, and Healthcare were the top industry segments.
Markets with the highest week over week growth were Los Angeles-Long Beach, Indianapolis, California Central Coast, Colorado Springs, and Long Island. The average growth for these markets was 57.6% week over week.
| | | |
| --- | --- | --- |
| Market | Average Attendees | Average Square Footage Used |
| Los Angeles-Long Beach, CA | 84 | 1,800 |
| Indianapolis, IN | 68 | 1,334 |
| California Central Coast | 128 | 2,900 |
| Colorado Springs, CO | 86 | 2,079 |
| Long Island, NY | 82 | 1,408 |
Indianapolis, IN and Long Island, NY had the lowest space to attendee ratio while Colorado Springs, CO had the highest. These numbers evolve every week but are in line with trends of markets at different stages of recovery.
Knowland tracks the weekly event activity across 108 markets across the United States.
Ready to see what is happening in your market today? Schedule a free market analysis to find out.