It's Corporate Kick-Off Event Season – Bringing Teams Together Again
Now is the time to focus on 2023 corporate kick-offs. For many organizations, this is the first time since the pandemic that organizations will be hosting in-person kick-offs. But there is still a lot of uncertainty about what these events will look like. What will travel budgets be? How will companies accommodate the remote work force? What will companies do to balance company objectives and the sometimes-conflicting employee preferences for remote work versus the need for more in-person collaboration?
This is a trend that, while it may have taken a back seat to COVID, is returning in spades in 2023. While there is no doubt that the pandemic changed how companies operate and do business, the reality is that team rebuilding and off-site events will be crucial for many corporations looking to get back to some sense of normalcy.
Companies lean into corporate events to reconnect with teams in 2023
In a recent survey by TravelPerk of corporate admins, office managers, and travel managers, 81% of respondents are organizing more face-to-face events compared to the last 12 months.
Corporate event kick-offs come in a variety of flavors at the beginning of the year and can be quite different after almost three years of not coming together. More conversations about employee wellness, work-life balance, and diversity/equity and inclusion (DEI) – just to name a few.
Corporate meetings and events are the dominate meeting type in the U.S., at 50-60% of monthly meeting volume.
Popular corporate kick-offs include:
Sales kick-off meetings or SKOs – many are taking a mini-SKO approach or multi- mini-SKOs in 2023 to minimize travel costs for larger staffs).
Team building meetings – focused on collaboration and culture building for increasingly remote teams.
Annual company kick-offs – some companies are using their kick-offs as an opportunity to blend company goal setting with employee focused activities to build connections and re-engage cultural values.
New product launches – for some, new product introductions have been delayed, so there is a backlog of ideas ready to come to market.
New year, new promise
The new year has traditionally been a time for companies to re-invigorate staff, launch corporate roadmaps, and welcome new employees. While the pandemic put a hold on many of these types of events, most organizations are looking to not only hold the typical kick-off events but may even be looking to bring their offsite workers together with those that are back in the office.
These events will be crucial in generating goodwill with employees, celebrating changes to corporate policies such as the hybrid work model, as well as providing an opportunity for new and returning workers to mingle and get to know one another.
Nothing has the same impact as a face-to-face event. While there may be some hesitancy in conducting these types of gathering in the face of potential new outbreaks, the business world is looking to move past this time in our history and come together again. Meetingsnet.com noted that three out of four sales-kickoff events in 2023 will have an in-person component.
Data insights help identify corporate meeting business
We've said it before. Many start by reaching out to those companies you have worked in the past to build repeat business. But how do you uncover new leads and gain insight into corporate events that were held in the past in your market with your competitor venues? What if your sales team could tap into intelligence about where those events were booked, or if that type of business is right for your hotel? This type of insight can help your sales teams shift share to your hotel.
Local markets drive corporate event bookings
In that TravePerk survey, the most important factor when choosing an event venue is finding a location close to the office (33%). So, to maximize share, venues need to understand the corporate offices right in their own backyard. These companies prefer to meet monthly over quarterly (25% plan to meeting monthly compared to 22% meeting quarterly) which can establish a solid repeatable stream of meeting revenue.
Hotels and meeting venues use event intelligence to understand their market trends, activity of competitors, and what groups have a history of booking their market. Now is the time to fill openings you might have for January and February as corporations across the U.S. are re-energizing their kick-off events. What if you could provide your sales team with insight into past events and connect with the meeting planners that are booking in your region?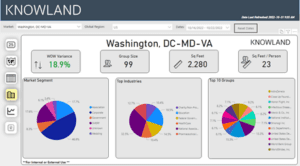 The New Year is just around the corner. If you would like to know more about how to identify and tap into data that will increase your market share, and fill those empty ballrooms, let us know. Knowland's experts will show you how!
See how Knowland works to increase your share of corporate events in 2023.