In anticipation of Global Meetings Industry Day, Aimbridge Hospitality and Knowland survey U.S. sales and catering teams to identify how meetings are heating up the customer experience and changing hospitality operations
PLANO, Texas and ARLINGTON, Va. — March 29, 2023 — Aimbridge Hospitality, a leading global hospitality company, and Knowland, the world's leading provider of data-as-a-service insights on meetings and events for hospitality, today announced a collaboration resulting in a report that reveals unique insights into the significant changes and influences taking place in sales and catering. A survey of Aimbridge U.S. sales and catering staff shone a light on new trends and a behind-the-scenes look at the requests and challenges facing today's hotel staff. Download the What's Hot in Meetings and Events for 2023—Creating the Next Instagram Moment report here at https://get.knowland.com/2023s-hottest-meeting-trends.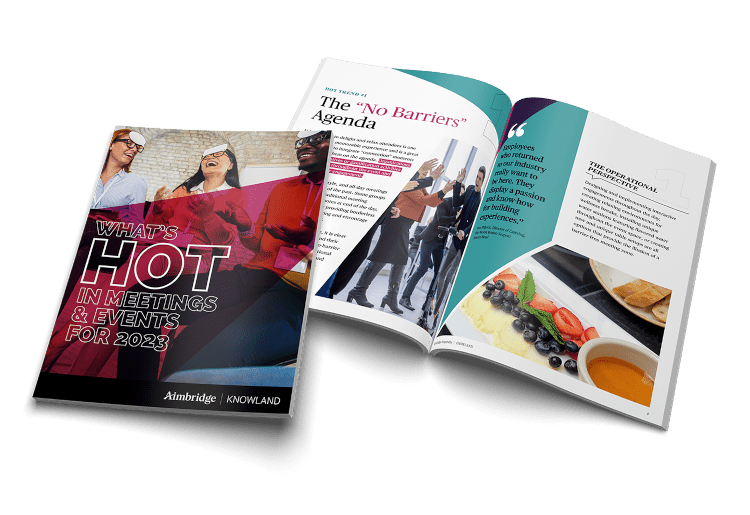 Meetings have returned as people come together for engagement and connection. However, many challenges persist, such as onsite staffing shortages; new, inexperienced, or a lack of meeting planners; food shortages and cost increases; and short lead times. These challenges have resulted in a metamorphosis of the industry as teams from sales, catering, and operations unite to create new, engaging, and memorable events. Top trends identified in the report include:
The "No Barriers" agenda. Meetings and social events have changed. Gone are the days of theater style or shoulder-to-shoulder classroom meeting spaces. Regardless of the structure, it is clear today's meeting planners, and their customers, are looking for no-barrier agendas to enhance educational events, stimulate the senses, and provide memorable moments.
"Tag and Post" Instagrammable moments. Social media and cooking shows have inspired today's meeting planners so food service, menus, catering, and operations teams must be more creative with an eye on providing those one or two sparkler moments—and do it in much shorter timeframes.
The Pop-Up board room – bringing remote teams together. Remote work is the new normal as more physical offices close or downsize, which means there is a growing desire to bring employees together for face-to-face interactions. Sales and catering teams are leveraging this trend by converting spaces (often restaurant spaces, outdoor patios, etc.) into meeting spaces for local businesses.
Team building is back, but different. The 2020s are re-inventing the 1980s team-building phenomenon in new innovative ways. Instead of traditional reception-based networking, what is meaningful to today's organization has shifted, and team-building activities are more engaging and creative.
Feel-good agendas. Wellness and sustainability are emerging as desired elements of a successful meeting. New titles such as "Chief Wellness Officer" are appearing more often in corporate org charts, aiming to ensure employee safety and well-being through education and enrichment. Groups are holding the meeting planner accountable for building agendas that are healthy both physically in the space, but also mentally.
Jen Chauvin, VP of catering and event management, Aimbridge Hospitality, said: "We strive to deliver the education, service equipment, and data tools our catering and event management community needs so they can confidently stand apart from other venues to deliver memorable events. We collaborate with meeting and event planners to push innovation and exceed expectations—even in the face of today's evolving climate. Our team's ability to craft unique audience experiences that achieve event goals, while celebrating our culinary strengths and creative atmospheres, sets our hotels apart from the competition."
Jeff Bzdawka, CEO, Knowland, said: "As group business continues to grow and evolve, regardless of the situation, today's sales and catering staff stand ready to support their customers in creating joyful, memorable experiences. To help them gain ground in identifying the best opportunities for their hotel, Knowland works with Aimbridge sales teams to ensure they have the insight they need to make fast decisions, shift market share and grow their meetings and events customer base."
ABOUT AIMBRIDGE HOSPITALITY
Aimbridge Hospitality is a leading, global hospitality company with a growing hotel portfolio representing more than 1,500 properties in 50 states and over 20 countries, inclusive of pipeline. As a top hotel management company and trusted operator of over 80 lodging brands and distinctive luxury and lifestyle assets, Aimbridge Hospitality leverages its scale and operational excellence to consistently deliver results for hotel owners and offer unparalleled opportunities for associates around the globe. Aimbridge Hospitality adds value through focused, expertise-driven operating divisions in Full Service, Evolution Lifestyle, Enhanced Select Service, and Select Service, optimizing owners' investment returns and driving hotel market success. The Aimbridge Hospitality EMEA Division has supporting offices across Europe in Amsterdam, Birmingham, and Glasgow. The Aimbridge Hospitality LatAm Division has offices in Monterrey and Mexico City. Aimbridge Hospitality's global headquarters is based in Plano, Texas. To learn more, visit www.aimbridgehospitality.com. Connect with Aimbridge Hospitality on LinkedIn.
ABOUT KNOWLAND
Knowland is the world's leading provider of data-as-a-service insights on meetings and events for hospitality. With the industry's largest historical database of actualized events, thousands of customers trust Knowland to sell group smarter and maximize their revenue. Knowland operates globally and is headquartered just outside Washington, DC. To learn more about our solutions, visit www.knowland.com or follow us on Twitter @knowlandgroup.