Portland bound as this northwest city leads the week's movers and shakers
For the week ending April 8, 2023, the number of U.S. meetings and events fell 23.8% compared to the prior week. This performance is in line with spring break and holiday seasonal trends for this time of year. Corporate events lead event volume with 56.6% of meetings and events, with Education groups again as the top industry segment for the week.
Ready to see what is happening in your market today?

Schedule a free market analysis to find out.
The average number of attendees for the week was down slightly to 75 (compared to 81 last week), while the average square footage used was 1,536 (compared to 1,799) per event, and square feet used per person was 20.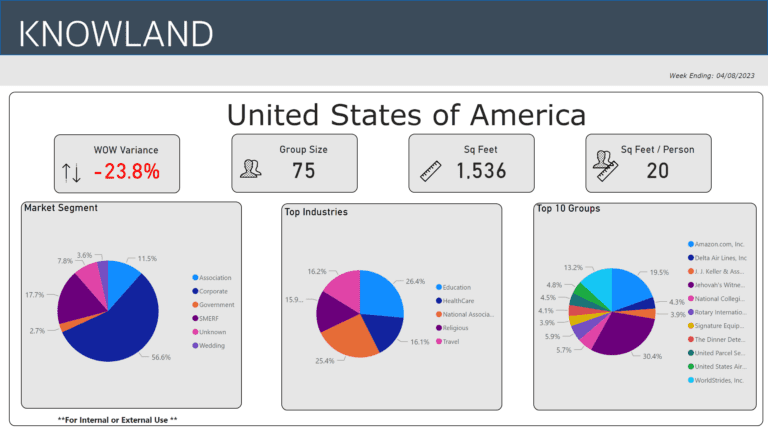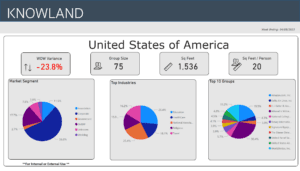 Travel makes it into the top three of industry segments this week. The top five segments for the week were: Education, National Association, Travel, Healthcare, and Religion.
The top growth market movers and shakers were: Portland, Colorado Springs, Oahu Island, and Albany-Schenectady.
| | | |
| --- | --- | --- |
| Market | Average Group Size | Average Sq Ft Used |
| Portland, OR | 75 | 1,776 |
| Colorado Springs, CO | 45 | 1,189 |
| Oahu Island, HI | 47 | 1,144 |
| Albany-Schenectady, NY | 61 | 1,980 |
These numbers and markets change weekly based on market dynamics and social trends.
Knowland tracks the weekly event activity across 128 U.S. markets with more globally and is expanding coverage regularly.