Are trends in commercial real estate an opportunity or a threat to the hospitality industry? Learn about the potential impact of the commercial real estate bust in this contributed piece by Jeff Bzdawka, CEO of Knowland. Originally featured on Hotel Business in June 2023.
It was inevitable. We are only beginning to see the impact of the pandemic on society, business, and future generations. One potential upheaval is looming in commercial real estate. Asset managers and hoteliers are tasked with navigating one of history's most significant market shifts.
As the work-from-home movement continues to grow, the commercial real estate market in large cities such as New York, Chicago, and San Francisco is significantly impacted. Most downtown areas are still quiet, and some thriving city landscapes are experiencing a loss of culture and, maybe worse, income.
The New York Times reported that while the current commercial real estate downturn shares similarities with previous declines, including periods in the early 1990s, after the Sept. 11th attacks, and during the 2008 financial crisis, this drop has a new twist: the lower demand for office space appears permanent.

Stijn Van Nieuwerburgh, a real estate professor at Columbia University's business school, has warned that New York City faces an "urban doom loop" sparked by remote work. Remote work and rising interest rates are a double blow to office landlords, with potentially grave consequences for the city and the national economy.
New York City's commercial real estate market was hit hard, particularly in the office and retail sectors. Remote work, business closures, and reduced tourism led to increased vacancies and decreased rental income in office buildings and retail spaces. Some reports suggest that New York City has experienced one of the highest office vacancy rates in decades.
Like New York City, San Francisco is facing similar challenges. Close to 75% of downtown San Francisco is office space; as of 2018, around 62% of that was occupied by tech. The shift to remote work and tech companies adopting long-term, flexible, or fully remote work policies have reduced demand for office space. San Francisco's high cost of living and office rental rates have further contributed to the decline in commercial real estate income.
With the ability to work remotely, residents of large cities are choosing to move to the suburbs or even other states, seeking larger homes, lower costs of living, and more space. This suburbanization trend has affected the demand for residential properties within the city and the corresponding amenities and services associated with urban living.
But from a hotelier's perspective, it may not be all doom and gloom. After all, with great upheaval comes great change, and there will undoubtedly be positive opportunities for savvy brands and entrepreneurs.
According to Knowland data, small events in these depressed real estate markets, such as New York and San Francisco, are growing in volume—sometimes double pre-pandemic volumes, but lasting less than two days, revealing a potential real estate market opportunity.
Potential positive impacts of a commercial real estate bust
If we look at the various scenarios, we can begin to see a light at the end of the tunnel. For instance, a commercial real estate bust can lead to a market correction, resulting in more affordable property prices. This can create opportunities for new investors or businesses looking to enter the market. Lower property prices may allow for more accessible entry points and potentially spur economic growth as new players can afford to invest in commercial real estate.
Opportunities for hotel owners and asset managers
A commercial real estate industry downturn can encourage adaptive reuse and repurposing of existing properties. Opportunists can transform vacant office spaces or retail buildings into alternative uses such as residential units, co-working areas, or mixed-use developments.
Residential units—complementary long-term stay units and existing short hotel stays offer additional revenue potential.
Co-working spaces—while work-at-home prevails, workers look for new engaging work environments to connect with others and meet with local colleagues.
Mixed-use community development—to create a new mixed-use neighborhood with a range of commercial space and provide a place that delivers benefits for existing and future communities and a great place to stay, shop, work and visit.
These real estate investment opportunities can breathe new life into underutilized properties and revitalize neighborhoods. In fact, some forward-thinking hotel brands are considering converting corporate offices into shared workspaces to capitalize on their existing real estate assets. This conversion to new and different ways to utilize unused space exemplifies the ingenuity needed to weather the storm.
During economic uncertainty, entrepreneurs and innovators often emerge with creative solutions. This shift in the commercial real estate market can allow entrepreneurs to identify new business models or innovative uses for properties. This strategic planning could lead to new industries, technologies, or services that cater to changing market demands.
To attract tenants, landlords, and property owners may become more flexible in their lease terms and offerings. This can include more favorable rental rates, shorter lease durations, or increased tenant improvement allowances. Increased flexibility can benefit businesses seeking affordable or short-term leases, allowing them to test new markets or adjust their operations more efficiently.
We may also see the triggering of urban revitalization efforts as cities and communities work to attract new businesses and investments. Local governments may implement incentives or tax breaks to attract developers and companies to revive underutilized properties or blighted areas. This can lead to the revitalization of urban neighborhoods, improved infrastructure, and increased economic activity.

Economic downturns often encourage a focus on sustainability and energy efficiency. Developers and property owners may invest in retrofitting existing buildings to improve energy efficiency, reduce operating costs, and enhance market appeal. This can lead to greener and more sustainable commercial real estate practices, benefiting both the environment and the bottom line.
This upheaval could be a boon for hoteliers. Some may say it could be a bust if commercial real estate moves heavily into meeting, event, or experience spaces. Could this mean less demand for hotel meetings and event space? 
Commercial real estate management companies may be unprepared for food and beverage requirements. Nor do they have a service-level component built into their operations that hotels do. They will unlikely want to invest in the services it would take to pull off major events. Instead, these properties likely focus on smaller ad-hoc meetings that are not necessarily the target of hoteliers.
It is important to note that the specific impact on hoteliers will depend on various factors, including the severity and duration of the real estate downturn, the location of the hotel properties, the hotelier's financial strength, and their ability to adapt to changing market conditions. Hoteliers with strong financial management, marketing strategies, and customer loyalty programs may be better positioned to weather the challenges, and savvy, creative hotel brands will win the day.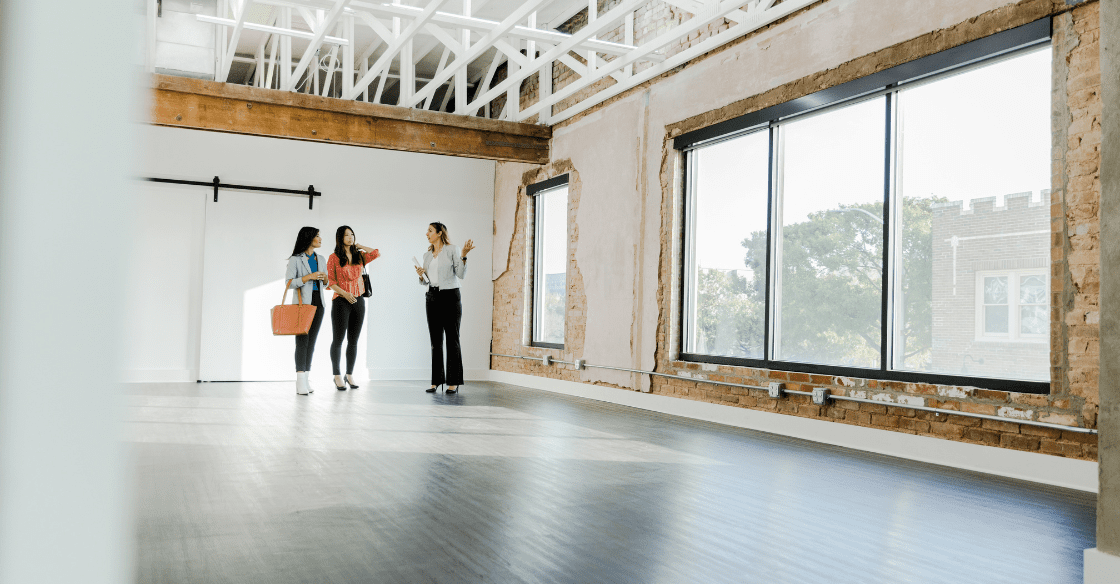 Tomorrow's workplaces will look different.
Historically, white-collar workers have been programmed to be at a desk from 9-5. As the pandemic stretched beyond the two-year mark, a new work culture began to solidify. We saw a lack of staffing across many industries when restrictions were lifted, as many workers found they were more efficient when working without distractions. 
Others realized they could better balance family and work when they didn't need to commute to an office. Corporations certainly took note as at-home workers became more productive. They also took notice of their employees' refusal to return to the "old way" of doing things. Some employees took time off to regroup, switch gears and look for a new job.
Many organizations have been employing remote workers for years. But while the work-from-home model tapped workers from around the world, many of us were still required to be present in the office. Instead of being the outlier, work from home today has become the norm as enterprises realize the cost-savings of giving up their office space and re-directing the capital into other assets. Yet, many enterprises still require face-to-face gatherings, either weekly or monthly.
Remember the co-working office spaces that sprang up ten years ago, providing entrepreneurs and small businesses an affordable way to come together? Those same shared workspaces used to be easy to get. That is no longer the case. The reality is that there aren't enough flexible, joint workspace opportunities to go around as corporate offices look for affordable, convenient meeting places.
What does that mean for today's hotel meeting spaces? Opportunity for the creative brand. But as these shared workspaces increase, the potential for another competing environment may also arise.
Digital transformation: Using technology and data-driven insights
We know hoteliers leverage technology to understand their shifting market better. It also means that hotel staff must be more inventive and creative, from sales to catering to operations. To do so, they require digital assets and data-driven insights to help them ascertain the feasibility of their market, understand their competition, tap into their customer's behaviors, and deliver unique and memorable experiences.
We are already seeing a return to face-to-face meetings and events in the hotel industry. As remote work has changed the mindset of today's workers, so have their demands. There is a greater need for creating a healthy culture, and regardless of the business, creativity is often born around the "water cooler."
Indeed, the opportunities that arise for collaboration in an office may result in missed opportunities, and it is evident that the evolution of the work culture and how we work and come together is still in flux. Then again, it comes down to a societal adjustment, re-learning of new work behaviors, and an even greater dependence on technology.
Hoteliers, asset managers, and owners are getting creative with one of the greatest shifts in market activities. From the potential of new competition born from the co-work environments to the demand for a more personalized experience, the changes will force many to dodge and weave. The game has changed, and the rules may differ, but digital transformation tools to circumvent these changes will no longer be a "nice to have;" it is quickly becoming a "need to have."