Seasonal summer trends begin to kick in
For the week ending June 24, 2023, the number of U.S. meetings and events decreased 7.8% compared to the prior week. These trends are consistent with seasonal trends for the summer. Corporate events lead event volume with 57.9% of meetings and events, followed by SMERF and Associations market segments.
Ready to see what is happening in your market today?

Schedule a free market analysis to find out.
The average number of attendees for the week was up to 83 (compared to 79 last week), while the average square footage used was up to 1,890 (compared to 1,750) per event, and square feet used per person was 23.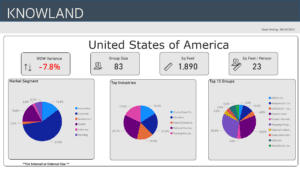 The top five segments for the week were: National Association, Education, Training/Education, Charity/Non-Profit/Social Sciences, and Financial/Banking.
These numbers and markets change weekly based on market dynamics and social trends.
Knowland tracks the weekly event activity across 166 U.S. markets with more globally and is expanding coverage regularly.