SMERF events make big jump in event share over the holiday week
For the week ending July 8, 2023, the number of U.S. meetings and events dropped over 50% compared to the prior week due to the holiday week. These trends are consistent with the July 4th holiday falling during the week as people vacation around the holiday. That trend has big impact for Corporate event volume as it moved down to 42.6% of events (from 56.5% last week) with SMERF moving up significantly to 26.7% (from 17.5% last week) of total event volume — taking an unusual second place status to Corporate events.
Ready to see what is happening in your market today?

Schedule a free market analysis to find out.
The average number of attendees for the week was 84 (compared to 79last week), while the average square footage used was 1,680 (compared to 1,766) per event, and square feet used per person was down to 20.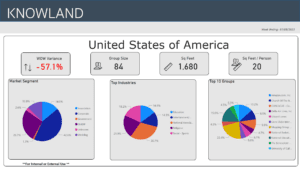 The top five segments for the week were: National Association, Religious, Social-Sports, Education, and Entertainment.These numbers and markets change weekly based on market dynamics and social trends.
Knowland tracks the weekly event activity across 166 U.S. markets with more globally and is expanding coverage regularly.