August 9-11, 2023, Nashville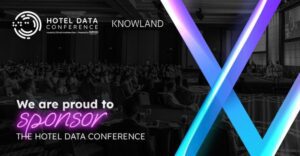 Knowland is proud to be a panel sponsor of the 15th Annual Hotel Data Conference (HDC).
To schedule a meeting with us at HDC, click here.
Over 700 esteemed leaders in the hospitality industry are invited to attend the 15th Annual Hotel Data Conference, presented by STR and Hotel News Now. Gain valuable insights, innovative tactics, and actionable tips to boost your business performance.
Join Patricia Shea, Knowland's SVP of Sales and Customer Success for a featured panel:
Revenge of the Groups – August 10, 2023 1:30 PM-2:15 PM CT
Summit E (4th Floor)
It's time for group revenge travel as pent-up demand for large events and meetings is unleashed. Experts share how group behavior has changed and give actionable tips on how to determine which groups are the most profitable, plus how to manage changes to keep momentum growing.
Request a meeting with Patricia, here.