Knowland is pleased to announce the launch of two new report products for a hotel or a portfolio, aimed at helping management teams at the above-property level gain a granular grasp of market-level trends. Designed with the specific needs of leadership teams in mind, these reports, coupled with our robust Knowland solution, provide a comprehensive tool-kit for strategic decision-making.
Leverage a data-driven approach to group business across your portfolio by providing market demand intelligence and competitive share reporting to RVPs/VPs and leadership teams that oversee a number of hotels. The Portfolio Analysis Report helps create the baseline to drive insightful conversations with property-level teams and develop strategic plans for new business development.
Each month, you can:
Analyze the trends in group business in your target markets and competitive set
Show performance against the competitive set and market, and segment share against the competitive set
Strategize against the opportunity that exists in that competitive set to shift share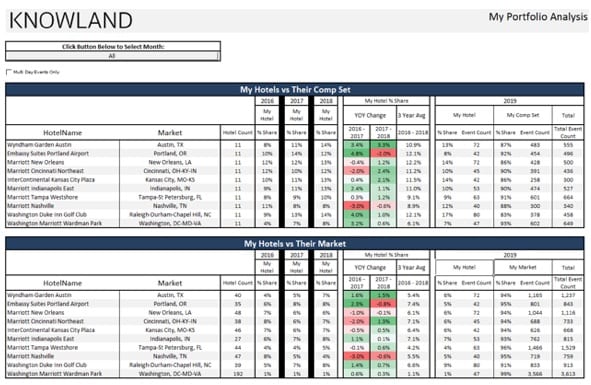 Fully evaluate potential market performance when making an acquisition decision, planning for a new hotel opening, or gauging a property's group meetings performance versus the market. Understand the trending industry segments in the market and the potential available opportunity by month, seasonality and trends based on actual, verified meeting data.
This Report Answers:
Which market segments and industries are the biggest players in the market?
What are the top accounts and where do new opportunities exist within the market?
What is the space utilization by property within the market?

Interested in seeing a sample of these reports? Contact us directly