World-Class Algorithm Delivers Your "Best Match" Booking Opportunities
We've developed the industry's first database search engine tool designed exclusively for the hospitality industry, SmartSearch. Fueled by our proprietary algorithm, SmartSearch applies cutting-edge, real-time search and analytics technology to Knowland's robust database of over 18 million actualized events worldwide. This intelligent technology delivers the results you see across the Knowland platform, giving you smarter matches with predictive insights to improve sales performance and drive higher group revenue for your hotel.
What is a "best match" profile?
Prospect accounts most likely to book your hotel.
Designed specifically for your hotel profile.
Matches your hotel profile attributes to a historical database of over 18 million actualized events and account behaviors.
To make the most of Knowland's platform, start with defining what "good business" looks like for your property. Our proprietary algorithm will compare accounts against your unique hotel profile. Each account opportunity is rated to show how well it fits your best match profile based on its booking history and preferences. We work directly with you to design a custom profile per your property's specifications. You'll receive the most up-to-date and relevant information about target accounts from our extensive database to help your sales team identify top prospects.
See your "best match" at a glance so you can prioritize faster.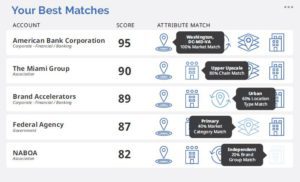 Match target accounts by market, class, location type, market category, and brand. The darker the icon, the stronger the match! Just scroll over the category to reveal the match rate for each specific account.
Using data-driven technology like Knowland's SmartSearch helps hotel sales teams make smarter, faster decisions to grow group business revenue.