2023 U.S. Meetings Industry Forecast Increased by 10% Based on Q4 Performance
"2023 will be the year of the meeting," said Kristi White, Knowland's Chief Product Officer.
Knowland released its fourth quarter meeting recovery forecast (MRF) with an accompanying webinar for almost 400 hoteliers.
White spoke about the changes the industry experienced over the final quarter of 2022.
To re-acclimate you to the Meetings Recovery Forecast, take a look at the chart below. The blue line represents 2019, the orange line is the forecast. The grey line represents the actuals as they occur each month. Finally, the yellow line is the capture rate.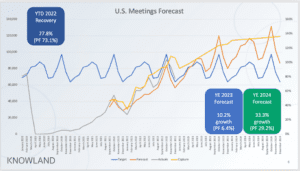 For the third quarter in a row, the U.S. outperformed the forecast. Not as strong as the second quarter but stronger than the 3rd quarter. Overall, the fourth quarter outperformed the forecast by 8.4%. As a result, all of the numbers moved up. Additionally, in October and November, the industry achieved something new as the industry achieved growth over 2019. This is changing the story and the way we talk about it.
Meetings and Events Have Now Reached the Organic Growth Phase
While we are currently still using 2019 as the baseline, for 2022, we will refer to it as a recovery metric. Moving into 2023 we will no longer refer to this as recovery metrics. Instead, we will speak about growth from an organic perspective. We will still use 2019 as the baseline. However, recovery is no longer the story because, except for a few markets, we are recovered to 2019 levels. We are now reaching an organic growth phase.
With that in mind, 2022 ended at 77.8% of 2019 numbers. The weakness of the first quarter was due to Omicron. The capture metric since June has been above 80% with November and December fully recovered to 2019.
As we step into 2023, we are currently forecasting 10.2% growth over 2019 and 2023 at 33.3% growth over 2019. We will begin factoring in YOY growth as we move away from favorable comps.
Knowland's forecasts provide an overview of how the U.S. as a whole and the Top 25 Markets, specifically, will move through recovery. Here are additional details:
U.S. Markets Recovery Forecast update – 2022 outperformed in Q4, raising the year-end capture to 77.8 percent from the October 2022 forecast of 73.1 percent recovery. Compared to 2019, the updated 2023 and 2024 forecasts are:

2023 Recovery Forecast: 110.2 percent (106.4 percent in October forecast)
2024 Recovery Forecast: 133.3 percent (129.2 percent in October forecast)

Top 25 Markets Recovery Forecast update – Four markets (Dallas, Nashville, Phoenix, and Tampa) ended 2022 fully recovered to 2019 levels. Twelve markets outperformed the October forecast, including Anaheim, Denver, Detroit, Houston, Los Angeles, Minneapolis, New Orleans, Oahu Island, Orlando, San Diego, Seattle, and St. Louis.

Recovery by the end of 2023: Thirteen markets are forecasted to achieve full recovery: Anaheim, Atlanta, Denver, Houston, Miami, Minneapolis, New Orleans, Oahu Island, Orlando, San Diego, San Francisco, Seattle, and St. Louis. Four markets (Boston, Detroit, Los Angeles, and New York) will end the year between 90 and 100 percent. The remaining four markets (Chicago, Las Vegas Philadelphia, and Washington, DC) will be under 90 percent.
Back to normal in 2024: All but two markets (Boston and Chicago) will be back to normal growth.
The MRF demonstrates projected industry recovery patterns and is based on Knowland's proprietary data and regression models leveraging almost 20 million global events over the last 15 years. Click here to learn more.
Ready to see what is happening in your market today? Schedule a free market analysis to find out.