If you're looking to grow your hospitality revenue, Knowland's platform can help. With our powerful database of meeting and event data, you can find new opportunities, outsmart the competition, expand your pipeline, and close more deals. And the best part? You can try it for free with our 14-day trial.
Having a successful free trial of Knowland can be a game-changer for any meetings and events venue. Our free trial provides a chance to evaluate Knowland's functionality, usability, as well as how it fits into your daily sales strategy, before purchasing. However, to have a successful free trial, you need to approach it with a plan. 
To help you get the most out of your free trial, we've put together some tips and best practices that will help you succeed.
1. Identify your business needs
Start by identifying your sales needs that you're trying to solve and what type of insights you hope to gain.
Knowland offers a variety of data related to meetings and events. Here's an overview of how you might use it to reach your goals:
Account data: This includes information on accounts hosting events, such as their market and industry segmentation. You can see an account's booking history and buying preferences by brand, market, hotel type, and more.
Event data: Find data on past events, such as which hotels hosted the event, estimated attendees, meeting space and square footage used, catering functions, and estimated revenue.
Market data: View current market trends for group business, including key performance indicators, top industries/verticals, time period comparisons, growth, and meeting size trends.
Competitive data: This includes information on competitive hotels booking activity . An easy-to-use calendar view displays events by day.
Performance data: This includes data on your hotel's performance in securing group bookings, such as how many bookings you have secured compared to competitors.
2. Take advantage of our onboarding resources
Use the Knowland Free Trial Walkthrough to get familiar with the system. In just a few minutes, you will be introduced to all our most popular features so you can optimize your trial period. 


We'll help you keep track of the modules you preview so you get 100% up to speed.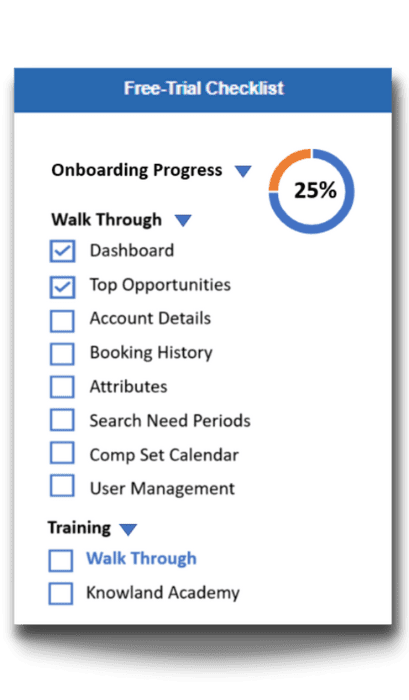 We have a robust training and education center. Knowland Academy offers a range of training materials, including videos, webinars, and user guides, that will help you get up and running with our platform quickly and easily. 
These resources will also help you discover all of the features and functionality that Knowland has to offer. Remember, our onboarding resources are only available to Knowland users, so be sure to complete desired pieces of training before your free trial ends.
3. Set specific goals for your trial
Before you start using Knowland, think about what you want to achieve with our platform. Whether it's finding new opportunities, increasing RFP win rates, expanding your network, or closing more deals, having a clear set of goals will help you stay focused and make the most of your trial. 
Define the specific metrics you will use to evaluate the platforms' effectiveness, such as how it improves your workflow, saves time and resources, and helps you win more group business.
4. Use Knowland regularly
To get the most out of your trial, it's important to use Knowland regularly. We recommend spending at least a few minutes every day exploring the platform, researching target accounts, and monitoring performance at your comp set.
Just 15 minutes can help prioritize your sales activity for the week and give insight into the competition for your management team.
5. Reach out to our support team
If you have any questions or run into any issues during your trial, our support team is here to help. You can reach us via email at FreeTrialBDR@Knowland.com and we'll be happy to assist.
6. Evaluate the results
As you start coming close to the end of your trial, evaluate the results. Did the platform meet your business needs? Did it improve your sales process and save time and resources? Did it provide quality insights that helped you make better business decisions? Were you able to uncover new accounts to prospect?
Consider these questions and document your answers for key stakeholders. Talk to a Knowland data expert to get insights on additional questions you have and use cases you haven't tried. Reach out to FreeTrialBDR@Knowland.com.
7. Make an informed decision
After evaluating your results, determine how Knowland fits into your sales strategy. Some users work with Knowland alone, and others combine it with other resources that focus on RFP distribution or contact lookups. Keep in mind, these other solutions can complement the Knowland Platform.
Knowland uniquely provides:
Actualized meetings and events data, not just info on RFPs distributed by a planner
Total account view including booking history and buying preferences from actualized meetings booked across channels (including those sourced direct to the hotel or via corporate leads)
Insight to build relationships beyond the single RFP at hand
Understanding of your hotel's performance compared to competitors and the market
Refer to your assessment of the results. They'll shed light on how Knowland can enhance your commercial strategy and sales processes.
Knowland can return 12x the amount of investment, and more. If your hotel relies on meetings and events as part of its revenue strategy, it could do the same for you.
Start Your Knowland Free Trial Today
By following these tips, you'll be well on your way to success with Knowland's free trial. Becoming a subscriber, you'll continue to benefit from our powerful platform and expert support.
To get started with your free trial, visit our sign-up page to see if you are eligible. We look forward to helping you fuel your sales pipeline and grow your hotel revenue.