We at Knowland are thrilled to announce our Top 10 ranking of Proactive Group Selling Trailblazers! Knowland defines a Proactive Group Selling Trailblazer as a group sales professional who proactively hunts for the best-fitting group business for their property and sells directly to the planner.
In November 2019, we invited group sales professionals to submit their success stories using the Knowland platform to proactively source group business for their properties. Knowland identified the top winners based on the contestants' use of the Knowland platform, demonstration of Hunter-style sales skills, the revenue sourced for their property, whether or not the group turned into repeat business, and the time it took to source that business.
Below is the official listing of Knowland's first Top 10 Proactive Group Selling Trailblazers. Read their stories here.
Melissa Menas, Associate Director of Sales at The Lodge at Torrey Pines
Allen Oakley, National Sales Manager at The Golden Nugget Las Vegas
Angela Tormey, Sales Manager at The Drake Oak Brook
Michelle Horsey, Sales Manager at The Whitehall Hotel
Gillian Cone, Senior Group Sales Manager at Le Meridien Delfina Santa Monica
Katie Mackay, Catering Sales Manager at Hotel RL Salt Lake City
Rachel Johnson, Sales Manager at Claremont Club & Spa, a Fairmont Hotel
Marty Laughlin, Director of Sales at Westin Minneapolis
Andrea Townsend, Catering Manager at Westin Atlanta Perimeter North
Mark Timbro, Sales Manager at The Daytona, Autograph Collection.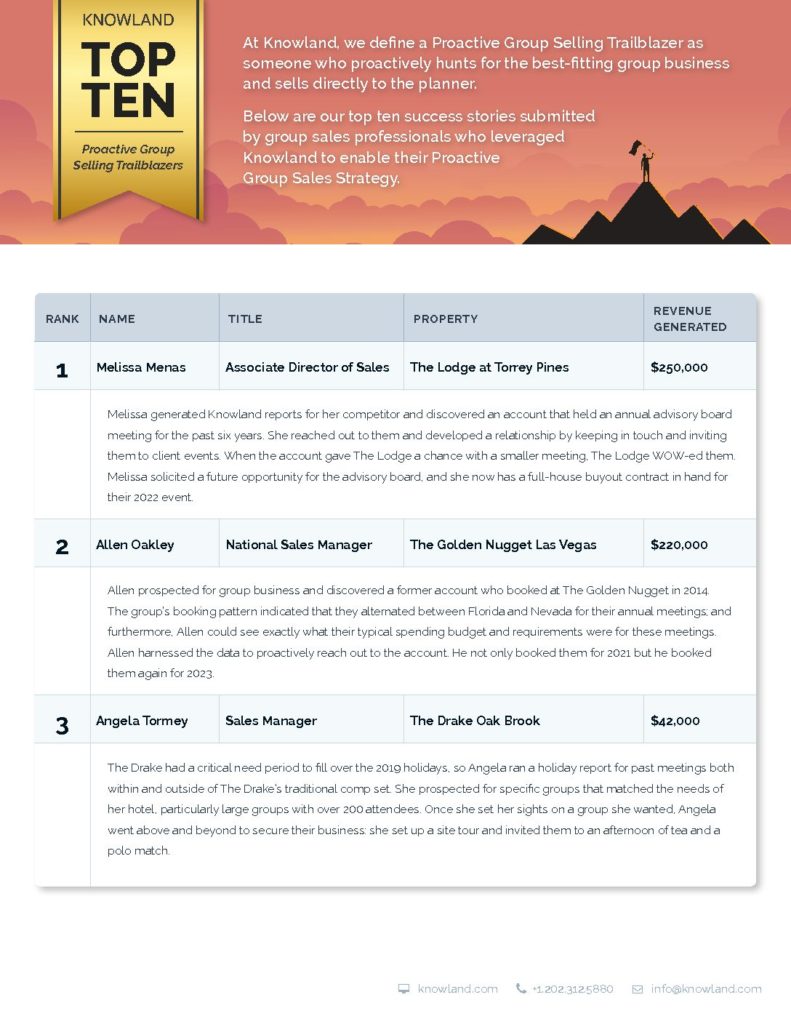 Are you a Proactive Group Selling Trailblazer? We'd love to hear from you – share your success story using the Knowland platform at marketing@knowland.com.