Content-rich platform offers easily consumable training modules to help hotels with fast onboarding and upskilling of new and returning sales teams
ARLINGTON, Va. — Oct. 28, 2021— Knowland, the world's leading provider of data-as-a-service insights on meetings and events for hospitality, today launched Knowland Academy, a new way for customers to learn its platform, quickly, easily and in a self-paced environment. Visit academy.knowland.com to see the user portal.
Knowland Academy was developed to deliver training in bite-sized, consumable videos, articles, notes on new releases and more, streamlining four weeks of user training down to three hours of self-paced interest-based learning.
Easily consumable, organized modules – Knowland's customer success team understood that both new and existing customers may be too busy for extended learning sessions. To ensure they have an ongoing training path, Knowland Academy provides self-paced learning modules that can be consumed in just five minutes.
Streamlines new sales teams onboarding and simplifies training for short-staffed properties – Training requirements vary as new salespeople are onboarded, returning staff are upskilled or sales managers are tasked with conducting sales while also supporting operations such as manning the front desk. By simplifying the training process regardless of the scenario, any skill set will benefit from the simple, self-guided training modules.
Customer training made simple – Using Skilljar, the leading platform to onboard and level up customer success, Knowland transforms the way its customers train, maintain and onboard sales teams. Training is packaged in bite-sized modules in the same fast, friendly format people are used to consuming on social media.
New content added weekly – Whether it's how to run reports, prioritize prospects or best practices for cold calls, new content is uploaded every week into neatly organized and easy-to-find training modules.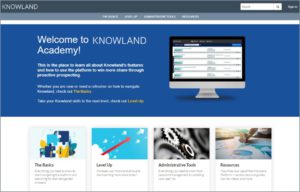 Patricia Shea, VP, sales and customer success, Knowland said: "Group sales in hospitality has changed. Many properties are still rebuilding their sales teams, and as group business continues to build, new and returning staff require different levels of onboarding and retraining. Our education needed to be quick and easy-to-consume so re-engaged sellers can quickly turn their focus to building customer relationships and capturing new business. Plus, the social media format delivers learning in a familiar way that helps our customers succeed as they drive the revitalization of our industry."
Technology is imperative to success, but proper ongoing training is also crucial to ensuring the software is used to the fullest extent.
Jessica Carey, head of customer success, Knowland, said: "The key is providing the right tools for the environment. Our customers told us they wanted to learn but didn't have the time to do so. With 'micro-learning' modules, our customers now gain the benefits of one-on-one training in bite-sized segments on demand. And they love it – users are tapping into snippet training more frequently and deep dive into details when they have more time. It's increasing productivity and driving new sales because it's how busy hotel sales teams want to learn and grow today."
ABOUT KNOWLAND
Knowland is the world's leading provider of data-as-a-service insights on meetings and events for hospitality. With the industry's largest historical database of actualized events, thousands of customers trust Knowland to sell group smarter and maximize their revenue. Knowland operates globally and is headquartered just outside Washington, DC. To learn more about our solutions, visit www.knowland.com or follow us on Twitter @knowlandgroup.