How to increase the productivity of your sales team
The return of group business combined with the reality of lean sales teams means that many hotel sales and event teams have to do more with less. It can be overwhelming — from inbound RFPs with extremely short deadlines to the still limited staff to sell and service group business. The secret to keeping your cool and staying in control is to plan your work and work your plan.
Here are five tips we found that work best based on talking to our hundreds of hotel clients as we help them boost sales productivity and rebuild group business share during recovery.
#1 Set Goals
Set a reasonable, achievable sales goals. People who do so are 10 times more likely to succeed than those who don't. For example, set a target to spend at least 60 minutes each week evaluating opportunities and assessing your sales pipeline. If you are not where you need to be to meet your goals, call 5 new prospects. Once you have achieved the weekly goal, modify it to push yourself to the next level.
#2 Make Time to Achieve Your Goals
Time blocking can help you achieve your goals more quickly through single-tasking, not multi-tasking.
Calendar time blocking keeps you on track and can improve productivity by as much as 80%. It helps you focus on specific selling tasks that can contribute to your hotel's continued recovery. You'll have more time to cultivate your sales pipeline and use data insights to improve your value story and boost close rates.
Learn more details in our time blocking blog.
#3 Use Data to Exceed Your Goals
According to the latest research from Salesforce, sales high-performers are 3x more likely to use data in their sales decision making. It helps them know where to spend their time and what deals to focus on. Data insights also enable saavy sales and event teams to build their sales pipelines based on the account attributes most likely to book their hotel profiles based on past booking behaviors and preferences. Not just gut feel.
Knowland's SmartSearch is the industry's first database search tool designed exclusively for the hospitality industry. It applies cutting-edge, real-time search and AI technology to our robust database of over 18 million actualized events worldwide, using predictive insights to match best accounts most likely to book based on your hotel's profile. See your "best match" at a glance so you can prioritize faster, targeting accounts by market, class, location type, market category, and brand. The result is improved sales performance and increased group revenue.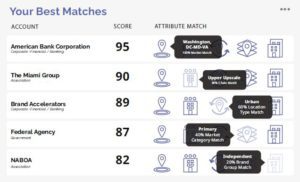 #4 Stay Aware of New Opportunities
As our industry recovers, it is more important than ever before that you have the latest market data at your fingertips. That's why we are hyper-focused on developing new ways to help your hotel sales team improve productivity and hit their sales goals.
Knowland's "New to Market" widget, a feature that will show your team the accounts that are new to booking events in your market. It helps you see what new accounts have recently met in your specific market, whether it's a new account that has never booked there before, or an account returning after a long hiatus. This new view will help put these opportunities front and center with your sales and event team.
Learn more about the New to Market widget here.
#5 Protect Your Loyal Customers
It's important to keep connected with your best accounts. Knowland's "Account Loyalty" widget will show you if any of your accounts are "cheating" on you by booking with another hotel in your comp set or your market. You can also identify loyal accounts driving the most revenue, so you can know what to do to maximize your customer retention efforts.
To get more insights on how to leverage data to help you and your sales team overcome being overwhelmed, scheduled time with one of our data experts today.