Take action to shift share using real competitive insights in Readerboard Data
In today's market, there is nothing more important than having your finger on the pulse of your competitor activity. With weekly reports on meetings and events booked by hotels in your comp set, you get actionable insights and the confidence to grow your hotel market share.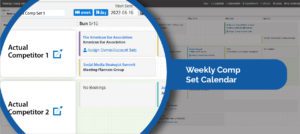 Knowland's Comp Set Calendar provides sales teams with a simple, easy to follow report on meetings in your comp set. Get insights into the groups and events booked last week across your comp set by day and by property, giving you insider knowledge of competitor bookings. You get the information you need to identify active groups with the potential of shifting future meetings to your venue.
Stop guessing how your competitors are doing or watching their parking lots for indicators of significant meetings and events activity.
This reporting allows you to:
See actual events booked at specific hotels in your comp set, not aggregated data.
Know the best companies and groups to target to shift share to your hotel.
Answer questions confidently from your sales leadership, GM, or ownership about your hotel's market position and/or STR ranking, and how you plan to improve it.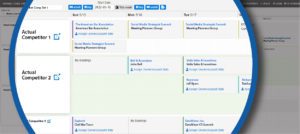 The Weekly Comp Set Calendar keeps you informed of specific competitive activity so you can see who is winning business across your comp set.
View up to 7 days of specific meetings and events by property
Track multiple comp set groups
Monitor key feeder or competitor markets in addition to your local market
See meeting details such as multi-day events, color-coded by type (Association, Corporate, Government, SMERF, Wedding)
View account booking analysis with trends, preferences and full event history
Export function details into Excel file
Assign your sales reps to specific target groups right from the report, to expedite account penetration
This simple report will change how you manage your sales team and empower you to shift share to your hotel. It's a must have for your sales toolkit to expedite recovery and increase hotel revenue.
Ready to be on top of what your competitors are doing today? Schedule time with a data expert to learn how.