Using Technology to Navigate the Shifting Sales Landscape
Part 1: Understanding Your Target Customers to Improve Business Efficiency
Technology is a great thing, especially when it works and when used correctly can boost sales dramatically. As hotels continue to work with smaller teams, using technology to make them more efficient is vital to ensure they can deliver the highest revenues and most profit for their hotels. This isn't a nice to have, it's a must-have. In this blog series, we will look at strategies for hotels to better understand their target customers, improve business efficiency, increase organizational knowledge, grow customer relationships, and finally, shift business.
Part One of this series will take a closer look at how to better understand your target accounts and in turn boost business efficiency.
Understanding Your Target Customers
The right tools can help teams eliminate the guesswork by unveiling those companies or organizations most likely to buy your product. Knowing where to spend time vs. when to respond is critical to optimizing valuable time.
Technology can help sales teams understand whom they are competing against (chances are it's not whom you think it is). Where meetings are happening has shifted significantly and if you aren't looking everywhere in your market, chances are you are missing out on an opportunity (or three.) The right tools can help you look deeper into the market to better understand where business is going.
Deep Dive Into Target Prospect Meeting Preferences
with Knowland Booking Analysis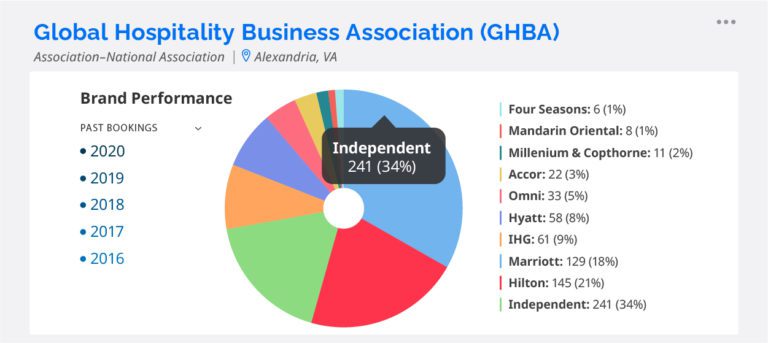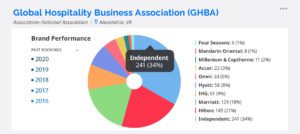 Knowing which competitor your potential or current customers are using can help a salesperson create the value propositions to present to customers. The cadence of meetings has been dramatically altered by COVID. However, regular patterns are beginning to assert themselves. Understanding those patterns and the total value of an account vs. the individual value of an event can also help teams prioritize time.
Statistics show that businesses without automation spend 71 percent of their time and resources planning and defining business processes. The same holds true for sales organizations. Selling requires a number of tedious, time-consuming, and repetitive tasks, such as scheduling sales appointments, sending follow-up emails, and updating sales opportunities (all of which reduce productivity and profitability).
By incorporating technology that enables sales teams to save time and energy, employees can focus more intently on providing customers with an excellent experience or getting more productive work done to finish projects, save money, and ultimately increase sales.
Rich data insights from Knowland can help sales teams determine which RFPs, for example, need more attention than others. Knowland's Booking Analysis tool shows you past account preferences and booking behaviors compared to your hotel. You'll be able to determine if the opportunity is a good fit for you. That will guide how much time to put into your response before you move on to the next RFP.