[Updated]
The disruption the hospitality industry experienced through the pandemic was dramatic. Decimated revenues, furloughs and layoffs, and the level of uncertainty took their toll on sales teams. However, a surge in post-COVID demand brought the business events industry back to life through 2022 and early 2023. Now, some pundits, including STR, project the pace will cool down as the volume of pent-up demand slows. 
Hoteliers must prepare their sales managers by building a dynamic routine supported by tools and training. On an individual level, restructuring goals and approaches to customer relationships can make flexing to market shifts more manageable.
Planning for success in 2023 starts with four basic selling disciplines including: 
Setting a weekly goal

Sharing your objective with a colleague

Writing your goal down

Staying engaged and consistent with leads
When you utilize these techniques, you ensure a proven and disciplined sales process that will deliver results every time.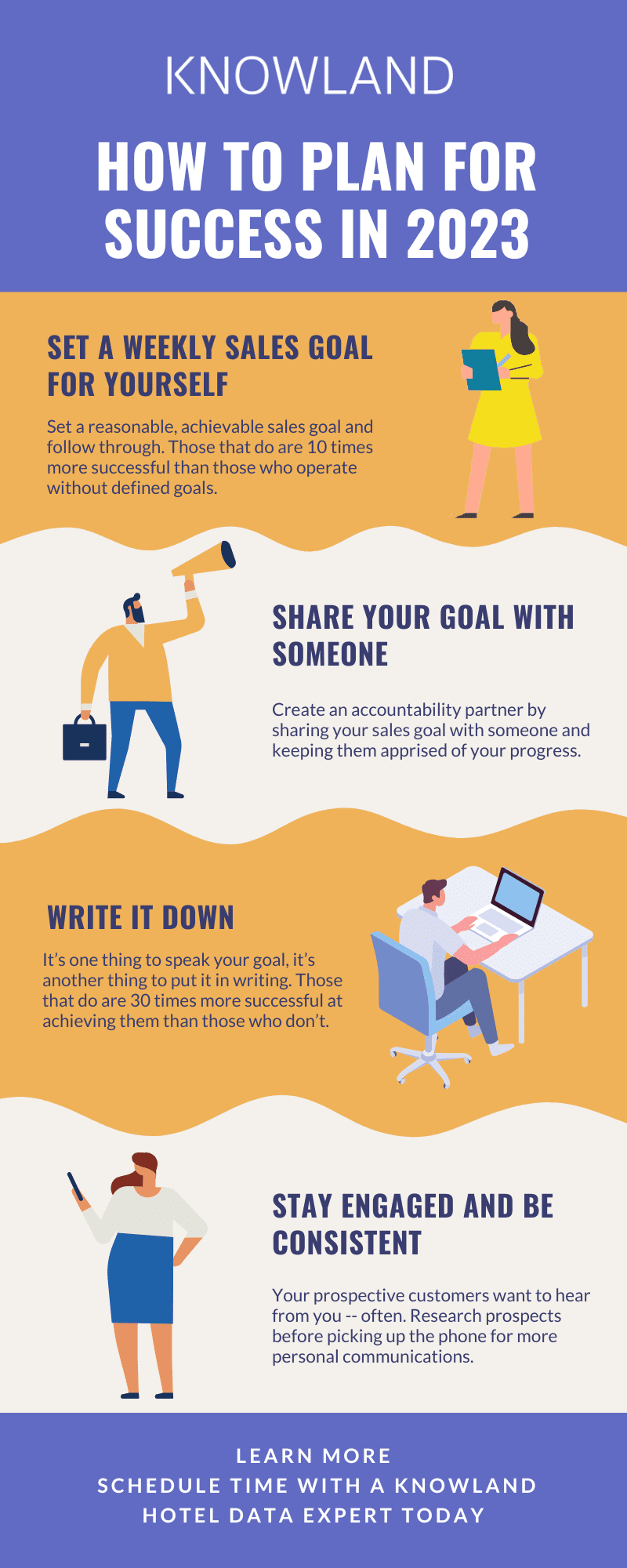 Increase Hotel Sales Wins with a Simple Checklist
It's important to remember that planning for success is intentional, just like strategic selling. You won't meet your goals by responding to inbound requests or trying to beat the clock with an RFP response. 
Instead, build a sales pipeline based on solid data-based booking behaviors by understanding your property's target market and optimizing revenue management. Data-driven targeting and account nurturing are essential as you solidify your pipeline– and Knowland can help you with both.
Use these hotel sales tips and suggested tools to pave the way to success:
1. Set a Weekly Goal for Yourself
Set a reasonable, achievable sales goal and follow through. Those that do are ten times more successful than those who operate without defined objectives.
For example, set a goal of spending at least 60 minutes each week identifying target accounts using the Knowland platform and calling five new prospects.
By selecting a very reasonable goal, you will find it easy to achieve it and can modify your plan each week accordingly. The more you reach it, the higher you will set your goal. You'll be surpassing your quota in no time!
2. Share Your Objective with a Team Member
Create an accountability partner by sharing your sales goal with someone — it doesn't have to be your boss — and keeping them apprised of your progress. Choose someone who will help keep you motivated daily and celebrate the little wins. 
3. Write Your Goal Down
It's one thing to speak your goal; it's another to write it down. An often-cited Harvard Business Study found that only 3% of people write down their goals, and those who do are 30 times more successful at achieving them than those who don't.
Try this: Knowland's Top Opportunity Report allows you to view and write down your top 10 accounts for the week. Use it as your call list. Organize the accounts you'll call, and with the detailed booking analysis in Knowland, note their preferences, booking history, and how your property fits into their event profiles. Sales professionals can get teed up for great conversations that often result in site visits, virtual tours, and proposals.
During this step, you can create a competition within your sales team to see who achieves their written goals first. Small weekly contests help motivate the team throughout the sales cycle.
4. Stay Engaged and Consistent with Leads
Your prospective customers want to hear from you often. They'll want to know how your property can drive event attendance compared to competitors and the incentives you can provide. Keep your prospects informed on what is happening at your property with the following in mind: 
Give them the latest information about your hotel, such as your hybrid technology, facility upgrades, and unique amenities. 

Don't assume any detail is too small.

Show them examples of like events and share photos of how you're optimizing the guest experience at your hotel. *Pro tip: offer a virtual site tour to entice out-of-region buyers.

Make your communications personal- train your sales teams to pick up the phone rather than press reply. 

Be transparent about meeting incentives that could spark interest in your city and property. (

Tip:

49.5% of meeting planners

say that meeting incentives are very or extremely important for hotels to win more of their business.). 
How Else Can You Plan for Success in 2023?
Utilizing a data-driven selling approach is key to success in any year. In 2023, technology-assisted pipeline generation will make this sales strategy even more accessible. Knowland can help you identify and understand your prospects through our global data on markets, accounts, and meeting planner booking behavior. You'll increase conversions and save time by aligning with better leads who are a fit for your property. 
Schedule time with a Knowland meetings and events data expert to learn more about our solutions and how they'll ensure your success in 2023.