This week was a busy one for the hospitality industry, with two major events taking place. The  AHLA launched its inaugural event The Hospitality Show (THS) kicking off the week in Las Vegas while the HSMAI Revenue Optimization Conference (ROC) had record attendance in Toronto. Knowland was on the scene at both events, keeping a close eye on the latest developments and trends in the industry. 
Knowland CEO Jeff Bzdawka addressed a full house on the importance of actionable data during the THS Solution Stage presentation of Real-Time Data and Smart Technology Impact on Distribution and Marketing Strategies. Patricia Shea, SVP of Sales and Customer Success shared customer behavior trends and changes in group business during the Evolving Customer Segments and the Impact on Revenue Management session at ROC. 
The events on each side of the continent had a few common themes that stood out, such as the significance of data, generative AI, and group business. Let's delve deeper into these takeaways to gain a better understanding of their impact.
The Role of Group Business in a Strengthening Hospitality Industry
In Toronto, hospitality professionals spoke about growth strategies heading into 2024. With leisure travel expected to wane, they're looking for alternatives to maintain revenue increases in the new year. Hyperfocus on group business appeared to be the shining solution among attendees. Knowland spoke with many customers about optimizing their strategies by shifting priority onto group revenue. 
In Las Vegas, the strength of the industry was spotlighted, with major credit being awarded to the role of group business. As leisure travel fluctuates, corporate meetings and events have helped hoteliers maintain an upward trend in growth. 
Importance of Data Reinforced While Generative AI Trends in Talks
Across the board, data use in the hospitality industry was discussed with an added layer of necessity. Data intelligence continues to make an impact on hospitality businesses that use it to their advantage. Hotels are using data in many cases, from marketing departments to sales and revenue. For instance, using data insights to improve marketing mixes, understand evolving trends, and make educated decisions that drive profitability and growth. 
Multiple robots roamed the floor to do everything from serving food and drinks to carrying your bag. The industry has made progress on the design and function of these tools for service, while the proven solutions are in operational functions such as laundry and back-of-house repetitive tasks.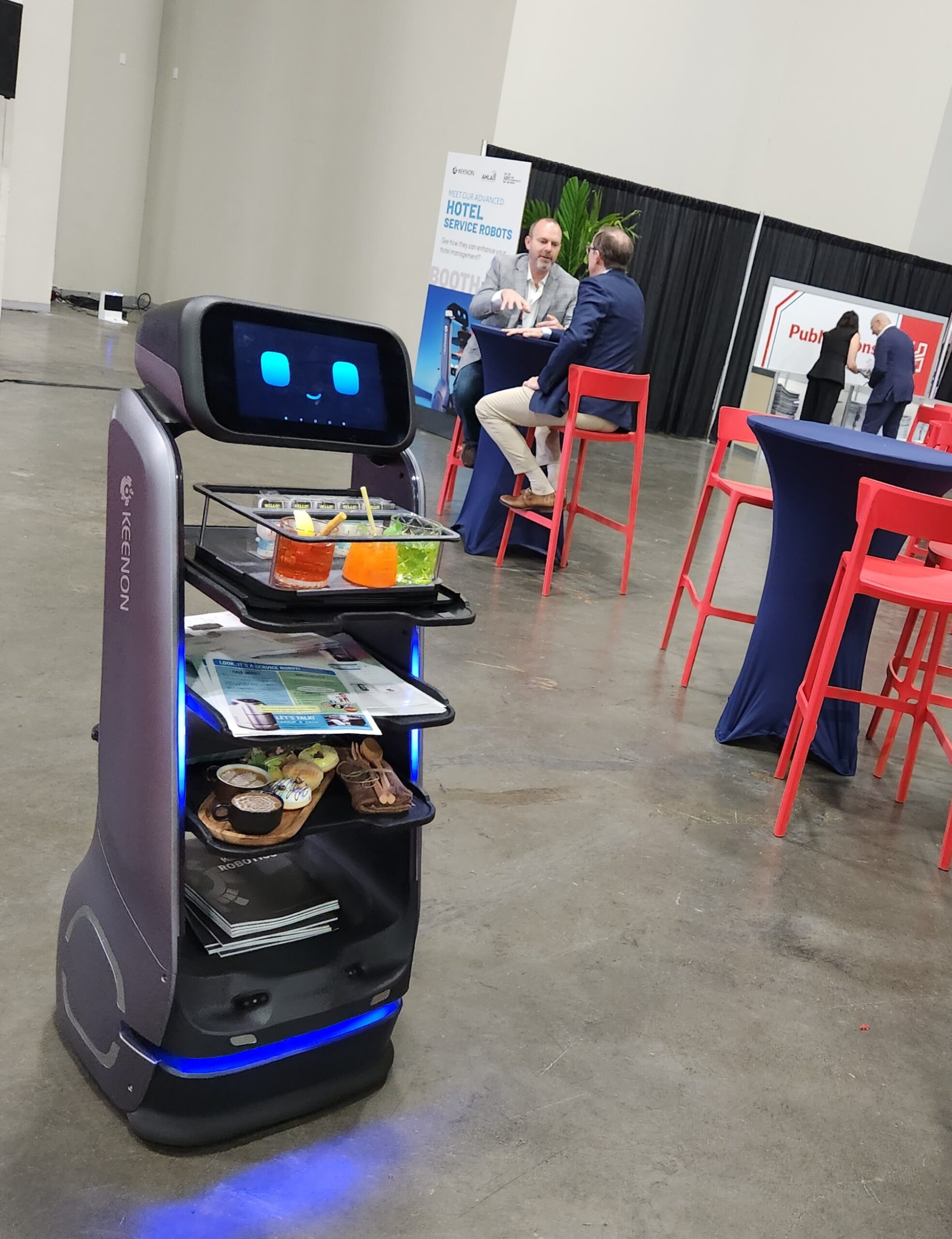 Artificial intelligence was omnipresent in conversations among industry peers. The general consensus; AI will impact all areas of hospitality, including marketing, revenue management, operations, and guest experience. Additionally, AI will enable better data and insights sharing between departments. Still, concerns were raised about the security of generative AI products, like the much-hyped ChatGPT. Despite this, the hospitality industry seems to be bracing for new AI-related opportunities to drive commercial success.
Sustainability, Transparency, and "Green" Meetings Make an Impact
At The Hospitality Show, The Venetian Resort Las Vegas showcased its commitment to sustainability by providing tours of its eco-friendly practices. They highlighted improvements such as low-flow fixtures, LED lighting, and green carpeting in guest rooms. Visitors were even allowed into back-of-house areas to see how the property handles waste management, and taken underground to explore their use of groundwater for landscaping and waste reduction efforts. 
The show also focused on green meetings for convention clients, recognizing that group events are a major source of revenue for many hospitality businesses. Attendees were treated to a zero-waste lunch, with leftovers donated to local charities or farms. To further their eco-friendly efforts, The Hospitality Show venue has made an effort to go completely plastic-free.
Overall, hotels and event venues are responding to the demands of event planners and attendees by delivering transparent, sustainable practices.  By doing so, these establishments are not only meeting the needs of their clients but also contributing to a more environmentally-conscious world. It is encouraging to see the hospitality industry taking steps towards a more responsible and ethical future.