Although it can be challenging to find groups that will consider meeting in or around a holiday weekend, it isn't impossible. Filling those tough "need dates" that every hotel has is all about having the right tool for the job.
Knowland offers one of the sharpest tools out there for this type of work. Insight can easily lead you to groups that can and do meet over weeks like the Fourth of July. Considering the recent holiday, we thought it would be interesting to take a look at a few groups that met this year in or around the Fourth using Knowland's Insight database.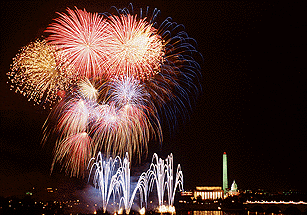 1. Mennonite Church USA 2015 Biennial Convention
This biennial gathering took place from June 30 to July 5 in Kansas City, MO. Several hotels were included in the block, including the Sheraton Crown Center and Westin Crown Center, but Knowland read for groups arriving on June 29 at the Marriott Kansas City Downtown. On that first day, the database shows how much meeting space they used and size of the largest room used. The Mennonite Church USA has held the same event in Phoenix (2013) and Pittsburgh (2011) over Fourth of July, and for both of those years Knowland gleaned information for multiple date ranges at multiple properties.
Takeaway: This history in Knowland's Insight shows that the convention moves each year and the Mennonite Church USA considers cities in diverse geographical locations. Why not yours next? This may be a perfect opportunity to advertise your location.
2. Orissa (Odisha) Society of the Americas
The Global Odisha Conference was held on July 1 and 2 this year in conjunction with the 46th Annual OSA Convention from July 2 to 4. Insight shows multiple days-worth of information on this event that was held at the Gaylord National Resort & Convention Center, including estimated number of attendees, number of catered/uncatered functions, meeting space used, and more. The database also shows that they met over Fourth of July every year from 2010 to 2014 in Columbus, Chicago, Dallas, and San Francisco.
Takeaway: According to the Knowland database's booking history, OSA is open to both first tier- and second tier-sized cities. It also books events in various areas of the US, having met out west, in the midwest, on the east coast, and in the southwest. That's a lot of variety to back up the appeal of your city.
3. Technology Student Association
Running up to the holiday weekend, the National TSA Conference took place June 28 to July 2 at the Gaylord Texan Resort & Convention Center. Insight reveals the details of the attendees and functions here, plus multi-day activity at the Embassy Suites DFW International Airport North. Past Knowland data in Insight shows that the same conference has been held in DC, Orlando, and Nashville as well.
Takeaway: Again, this is another example of a group that is not committed to just one or two geographic areas. By searching for groups like this and understanding their patterns, what kind of meeting space they need, how large the group is, and what dates they consistently meet year after year, you can find groups that are good fits for your hotel and holiday need dates. Even if they're not meeting in your market now, there's no reason why they couldn't in the future.
Give it a try: Current clients can login in on the Knowland site and run a search. If you would like further product training, register for an upcoming webinar.
Don't have a Knowland subscription, but curious to see how Insight could work for your hotel? Contact the Knowland team.