The monthly Pace Navigator gives you the Knowland Advantage! Through its TAP solutions, Knowland aggregates, analyzes, and reports on past and future event booking data as reported by participating CVBs, to deliver actionable trending insights needed to make better strategic decisions.
The most noticeable change this month's edition is in Booking Velocity for 2021, which has dipped and now sits 1.7% behind in pace. The outlook remains bright for all other future years which are still ahead of pace. For hotels, working with your CVBs to drive more group business for 2021 could help hedge the risk of any slowdown in the economic growth cycle.
Sign up now to get the Pace Navigator in your Inbox ›
Check out the results in this month's Pace Navigator!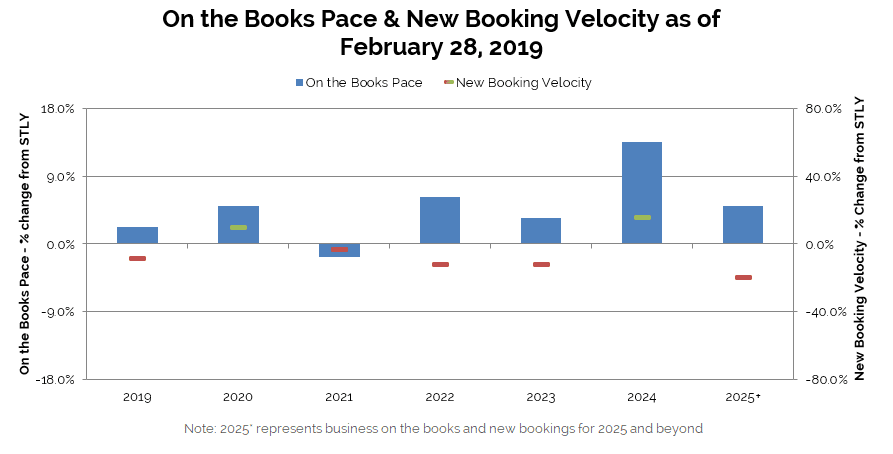 On the Books (OTB) Pace:




+3.8%
This metric measures the change in definite room nights on the books, as of February 28, 2019, compared to what was on the books the same time last year (STLY), or February 28, 2018. Down 1.6% from where we sat last month, our data shows that we have 3.8% more room nights on the books compared to this time in 2018. The graph above shows the OTB Pace change versus the same time last year, for each year in the future booking horizon.
New Bookings Velocity:


-6.5%
This metric measures the change in room nights from newly signed bookings over the last three months, in this case, January – March, compared to room nights booked over the same time last year (STLY). Across all future dates, the new bookings velocity is down 6.5%% compared to the same 3-month window in 2017/2018. The graph above shows the new bookings velocity change versus the same time last year, for each year in the future booking horizon. For example, the +7.7% new bookings velocity for 2021 compares the total room nights from November 2018 – January 2019 new bookings for 2 years into the future to the total room nights from November 2017 – January 2018 new bookings for 2 years into the future.
Our Take on This Month's Data:

Room night demand contributed by our CVB partners' sales teams to hotels in their markets remains ahead of this time last year by 3.8%. However, last month we saw room nights On the Books Pace ahead by 5.4%. A significant slowdown in Booking Velocity has led to our overall On the Books Pace to dip by 1.6%. This drop in Booking Velocity was seen in almost all futures years; the only years with positive velocity were 2020 and 2024. As for 2019 year to date, we are still in a positive position, pacing ahead by 2.2%.
This month's data mirrors most industry forecasts, which anticipate slower to declining growth in 2021, followed by a return to growth in 2022 and beyond. CVBs focus on bringing in large blocks of room nights around citywide events booked three plus years into the future. It is reassuring to see that any current economic uncertainty about the level of growth in the next couple of years is not significantly impacting the longer term commitments meeting planners are making further out on the horizon. This strong base of business booked now will serve as a welcome hedge against uncertainty or risk over the coming years.
So what should we make of this month's disappointing Booking Velocity? For now, we are considering this an anomaly rather than a trend. New business coming onto the books through new contracts signed, which is what Booking Velocity measures, has been consistently positive over recent months. Of the two measures we focus on, it is the more volatile. For now, we will not react with alarm. But we will keep our eyes on that number in the coming months. Stay tuned!
About the Pace Navigator:

Each month, Knowland collects a significant amount of data on forward-looking group demand across 60+ major North American markets. This data is provided by Convention and Visitor Bureaus (CVBs) that participate in Knowland's TAP Report. It is unique in providing group room nights booking pace information across the entire multi-year future booking window. This data represents over 30 million annual room nights and represents nearly 50% of the group business conducted by hotels across these markets.
Sign up now to get the Pace Navigator in your Inbox ›