The hospitality industry got a boost of optimism this week with the reports by Pfizer and BioNTech of a potential COVID-19 vaccine with a 90% success rate in patient trials.  Although we all breathed a collective sigh of relief, results are preliminary and more analysis remains to be done.
We did see some initial impact with the brands. According to analysis by Hotel News Now, stock prices of six major hotel brands increased after the announcements. As of 10 a.m. GMT on November 10, share price for six of the world's largest hotel firms showed*:
Accor on Euronext Paris stock exchange trading at €28.89 ($34.27), an increase of 23.57% from the previous day's low;
Hilton on the New York Stock Exchange trading at $104.19, an increase of 12.23%;
Hyatt Hotels Corporation on the New York Stock Exchange trading at $67.53, an increase of 19.82%;
InterContinental Hotel Group on the New York Stock Exchange trading at $61.09, an increase of 10.71%;
Marriott International on the NASDAQ stock exchange trading at $118.30, an increase of 13.87%; and
Wyndham Hotels & Resorts on the NASDAQ stock exchange trading at $55.12, an increase of 6.68%.
Vaccine news bodes well for the return of meetings
Although we have seen a slow but steady rebound for meetings as hotels and venues implement best practices for gathering safely, this recent news of vaccine progress is sure to drive a positive response from the meeting planner community.
According to Knowland data, U.S. meeting growth in the last 60 days is holding strong at 64.8%. Almost 60% of those meetings are Corporate events and of those 50% of the corporate meetings are in the Services & Tech sectors.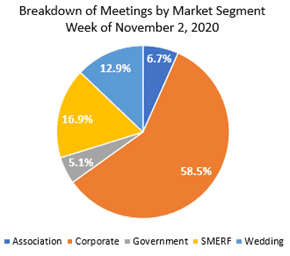 Let's embrace movement in the right direction, with cautious optimism.  It's early yet. A lot of questions remain – on everything from distribution, adoption, and efficacy.
One thing is for sure – it's nice to have some good news to celebrate.
*Source: Analysis of stock prices provided from an article by Hotel News Now, November 10, 2020: click here.