Group meetings actualizing in LA are growing year over year — and according toTravelClick's December 2016 North American Hospitality Review, this trend is predicted to increase in 2017. However, with 6,772 rooms in the LA hotel construction pipeline (the highest in the state), will hotel sales teams be able to book enough group business through traditional methods when set against new competition? Knowland broke down YOY trends in the LA market from 2015 to 2016 to shed light on market segment and subset activity — and hopefully help hotels better align their 2017 group sales strategies.
Knowland's records of meetings that actualized in the Los Angeles market already show positive growth across all industry segments from 2015 to 2016, laying the foundation for an optimistic 2017.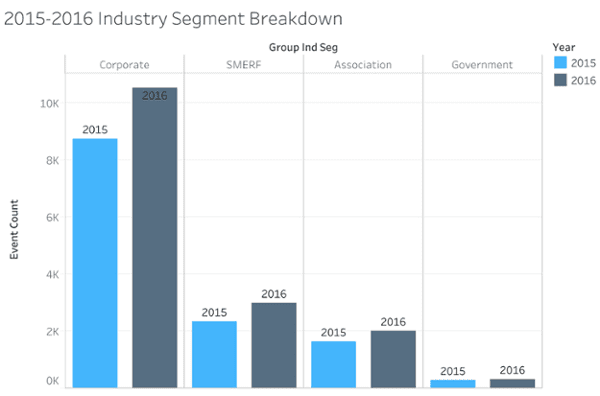 Within the corporate segment, Education/Training, Health Care, Financial/Banking, Technology, and Entertainment/Media were the top 5 group subsets YOY in LA. The Education/Training subset, however, decreased in total number of events from 2015 to 2016, while Entertainment/Media events increased significantly, actualizing more meetings than the Technology subset.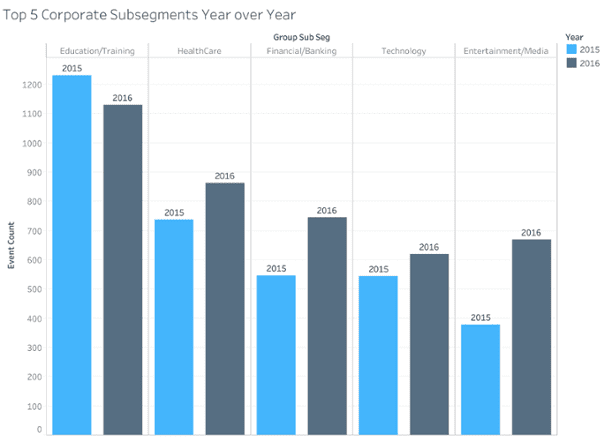 When broken down into group regions of origin, the top 5 subsets show 3 noticeable trends from 2015 to 2106:
Though total Education/Training meetings dropped YOY, Education/Training meetings from the Northeast and Northwest increased.
Health care meetings from the Midwest decreased.
LA saw significantly more Financial/Banking events from the Northeast and Midwest.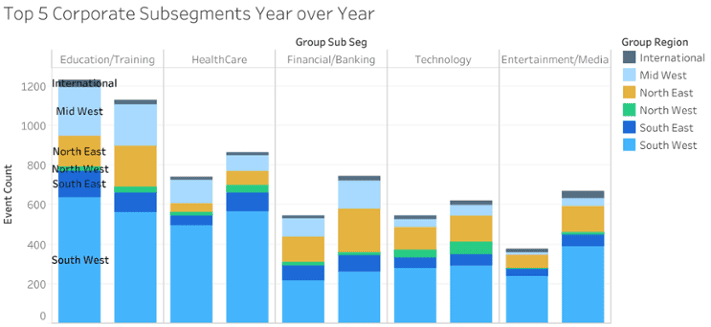 Month over month, LA saw more growth in number of events in Q1 and Q2 of 2016 compared to 2015. Though overall number of group meetings and events increased YOY, event counts in LA dropped steeply from June to July and October to November. The downturn reflects the unpredictable business demand during the back half of 2016.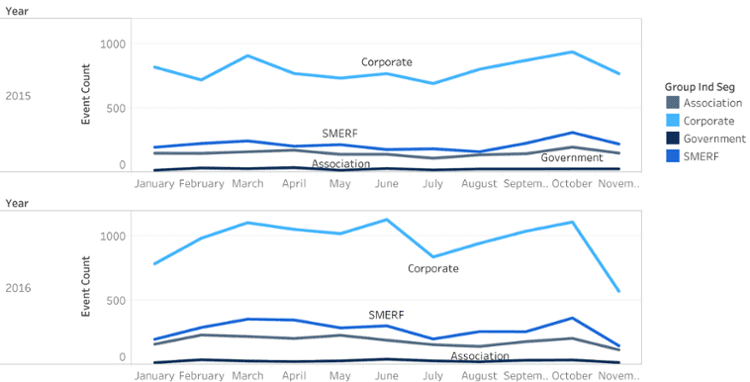 As local competitors increase, successful hotels need to be more strategic about how they fill their rooms. Staying ahead of other properties vying for group business requires knowing where to look for unique opportunities and what groups are generating the most opportunity. Big data can lend a big hand.