Chicago is consistently a top destination for group meetings and events. In a recent study done by Knowland, Chicago was the leading market in number of events held in Q1 from 2015 to 2017. Recently, however, many meeting planners have been considering secondary cities around Chicago because of limited availability and high rates. Using data on recurring and new actualized group business in the Chicago market, Knowland is able to observe trends in industry segments and subsegments that are driving Chicago's meetings and events.
Though the overall number of events in Chicago fell in Q1 2017, a view of the total event count YOY shows the cyclical nature of the market and the performance of Q1 2017 reflects that of both 2016 and 2015. Within the major group segments, corporate meetings dominate the market, with 68% of actualized meetings being from this segment.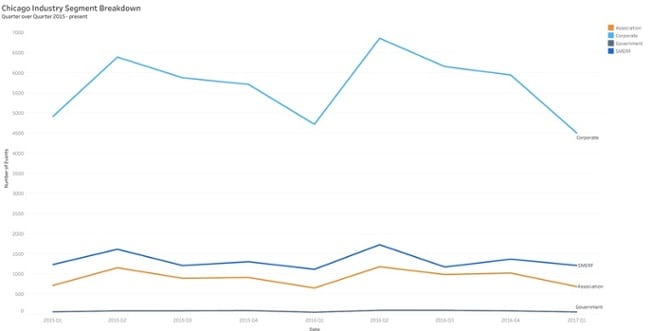 The top 6 corporate subsegments holding the most meetings and events in Chicago YOY are manufacturing, heath care, technology, financial/banking, education/training, and pharmaceutical. Within the last year (2016), financial/banking group meetings saw the biggest downturn of these subsegments, while manufacturing experienced the largest surge of events. Manufacturing meetings and events grew 6.6% over 2015.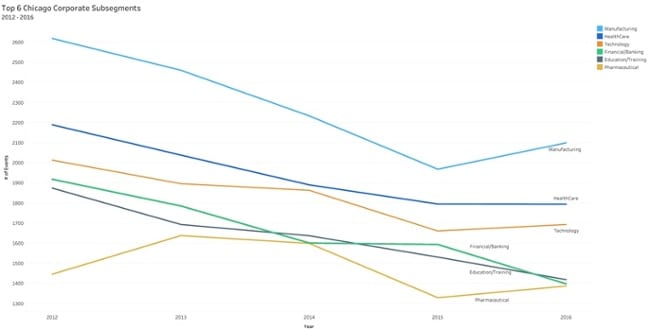 The growth in number of manufacturing events in 2016 ranks it in the top 10% of subsegments for overall growth in Chicago. Entertainment/media and travel also showed significant growth in both percentage growth and number of events. Real estate saw one of the greatest decreases in overall growth in 2016.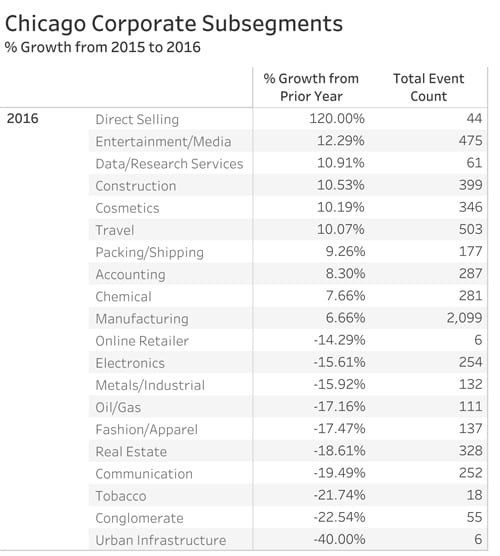 From Q1 2015 through Q1 2017, Chicago has seen a large number of groups meeting in the market for the first time. The majority of these groups are from the technology subsegment, which total 17% of group activity from the top-producing subsegments for new events. Manufacturing is the subsegment producing the second most number of new events in Chicago, which corresponds with the overall growth in manufacturing events in the market. Though not one of the top 6 subsegments in the market, legal meetings also drew a large portion of new group business to Chicago.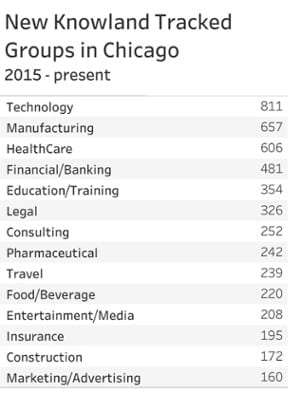 Unsurprisingly, groups meeting in Chicago are mostly from Midwest regions, accounting for 46% of the market's group business. In Q1 of 2017, however, groups with international headquarters had strong bookings in Chicago compared to past quarters.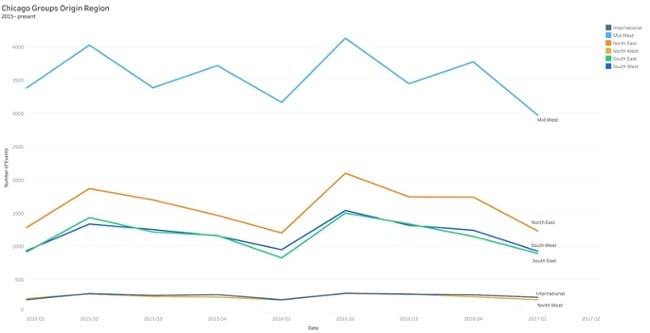 As local competitors increase, successful hotels need to be more strategic about how they fill their rooms. Staying ahead of other properties vying for group business requires knowing where to look for unique opportunities and what groups are generating the most opportunity. Big data can lend a big hand.