After entering 2107 with a 5% increase in average room rates, Amsterdam has continued to hold the highest average room and occupancy rates in the Netherlands. Increased tourism to the market has helped absorb new room supply over the past few years, keeping Amsterdam's growth on-pace with demand. However, STR reported that there are 167,543 rooms and 1,074 hotels under contract in Europe as of May 2017. Amsterdam will see some significant changes, including the first Kimpton and Hyatt Regency brands outside the US, plus the opening of The Maritime, one of the largest conference hotels in Europe that features 579 rooms and space for 4,000 conference attendees.
Using data on actualized group business in the Amsterdam market, Knowland observed trends in industry segments and sub-segments to help hoteliers identify drivers of group business in Amsterdam and prepare for the impending changes. 
91.3% of group business coming to Amsterdam in 2017 is from the corporate market segment. Within this segment, the top 5 sub-segments driving group business from 2016 to 2017 are technology, travel, transportation, manufacturing, and financial/banking.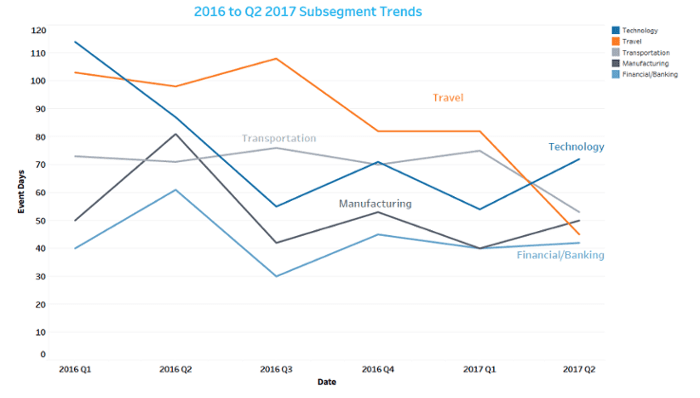 These corporate sub-segments have remained relatively stable year over year, though travel has seen the greatest decrease in overall number of events. The travel sub-segment has also shown the most significant decline in total composition of the corporate market. Though technology has seen little change in total composition of the corporate market from 2016 to 2017 YTD, has risen steadily through Q1 and Q2 2017 in total number of events, becoming the top producer of corporate meetings and events. None of the top sub-segments experienced a change in composition of the corporate market greater than 1.5%, however, reinforcing the stability of Amsterdam's corporate group market.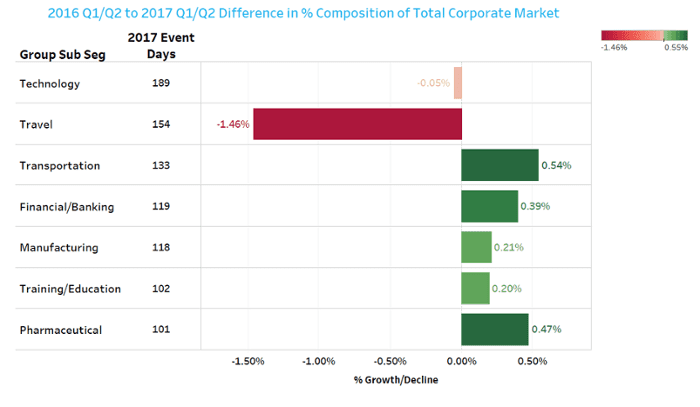 The corporate sub-segments that saw the largest growth in composition of the total corporate market in Q1 and Q2 2017 compared to the same time period the year prior are metals/industrial, electronics, transportation, biotechnology, and pharmaceutical, among others. Of these sub-segments, transportation has driven the most number of events in 2017 YTD. As with the overall top sub-segments, the corporate sub-segments with the highest increases in total composition of the corporate market show only slight rises in percentage, further indicating a stable market.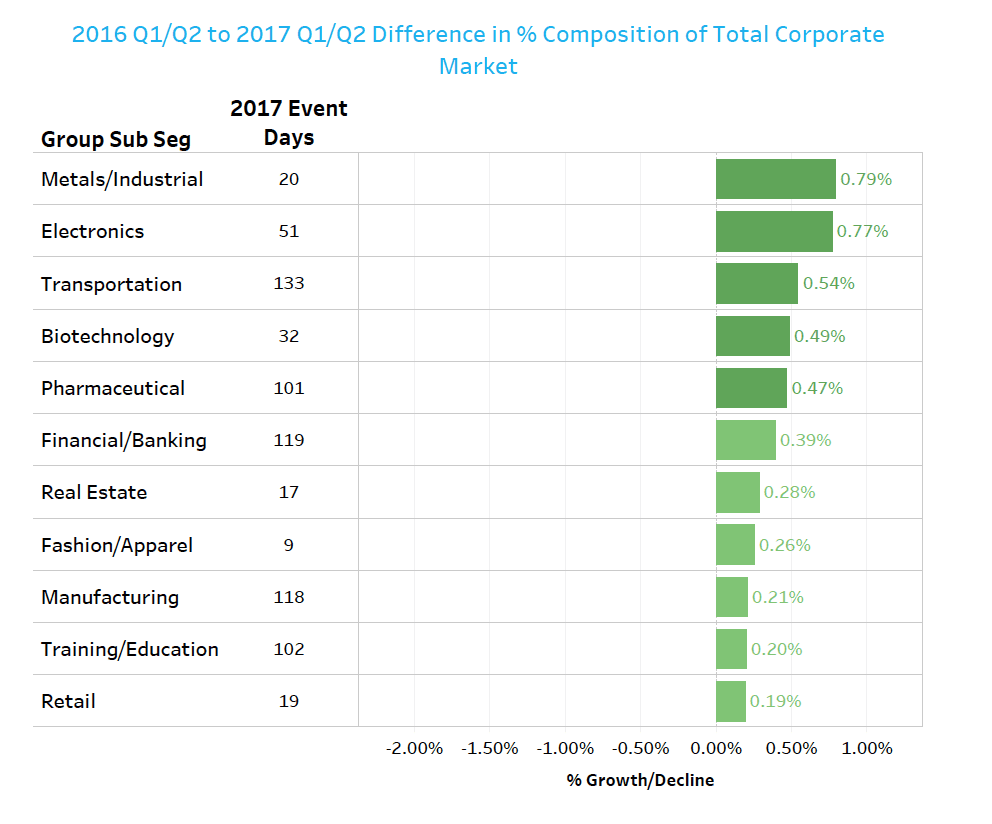 While the group meetings market is currently stable in Amsterdam with demand keeping pace with development, new hotel projects are looming and the steady rise of hotel guests is attracting interest of hotel chains as well as developers from Germany and the Middle East. Amsterdam's few, though significant, immediate changes will change the face of the market, and these changes set the stage for continued, if not more rapid, change. Actualized data on group sub-segments can help hotels stay ahead of the curve by proactively prospecting for target group business as development and competition increase.
As local competitors increase, successful hotels need to be more strategic about how they fill their rooms. Staying ahead of other properties vying for group business requires knowing where to look for unique opportunities and what groups are generating the most opportunity. Big data can lend a big hand.
Click here to learn how Knowland can help!
About Knowland
Knowland provides group data and innovative technology to help hotels, CVBs, and other venues drive revenue with meetings market intelligence. Knowland offers extensive insight into market analytics, industry trends, and powerful benchmarking for booking better-qualified group business. Acting on behalf of the hospitality industry as a whole, as well as its customers, Knowland continually strives to increase transparency of the group market and deliver best-in-class meetings and events sales solutions.