In today's rapidly evolving business travel landscape, CVBs and DMOs have emerged as crucial allies to the hospitality industry in their respective cities. While leisure travelers have their merits, the ability to secure group events that guarantee a steady stream of income for local businesses is an invaluable asset. 
So, how can your organization ensure a steady stream of event tourism? In 2023, destination sales and marketing are all about data. 
By implementing a strategic approach to data analysis, destination marketers can identify opportunities that align with their city's unique strengths and appeal. Monitoring market trends, competitor destination analysis, and identifying gaps in the market can all help achieve results. With this knowledge, CVBs and DMOs can effectively promote their city as a desirable destination for group events, ultimately benefiting the local economy. 
Stay tuned as we dive deeper into the data-driven strategies and tactics that your CVB or DMO can employ to harness the full potential of event tourism and strategic destination management, ensuring long-term benefits for cities and a thriving hospitality industry.
How Destinations Can Leverage Market Data
Staying informed about market trends can assist local governments in shifting share from competitive markets to theirs. By analyzing this data, CVBs, and DMOs can gain insights into emerging trends, upcoming conferences, and industry shifts.  Here are some impactful ways to get started.
Uncover Competitor Insights and Market Performance
Before diving into data usage, it's essential to have a solid understanding of the market. This can help ensure that your decisions are informed and effective. Quickly and easily review key metrics and analyze the current state of affairs before proceeding. Analyze what's happening in competitive cities to benchmark your performance and find opportunities to shift share. 
As you research competitive markets, use Knowland's destination marketing tools to take your analysis further. Here's how to get started:
Determine the period you are prospecting to fill.
Choose a comparable market size, tier, and location type with similar venue and lodging accommodations. For instance, a Nashville CVB may compare to New Orleans for insights.
Enter your specifications into Market Snapshot.
With these resources, your destination marketing organization will know where to prospect for business. By incorporating booking research, you'll know who to target and when. Start preparing to capitalize on your competitors' success!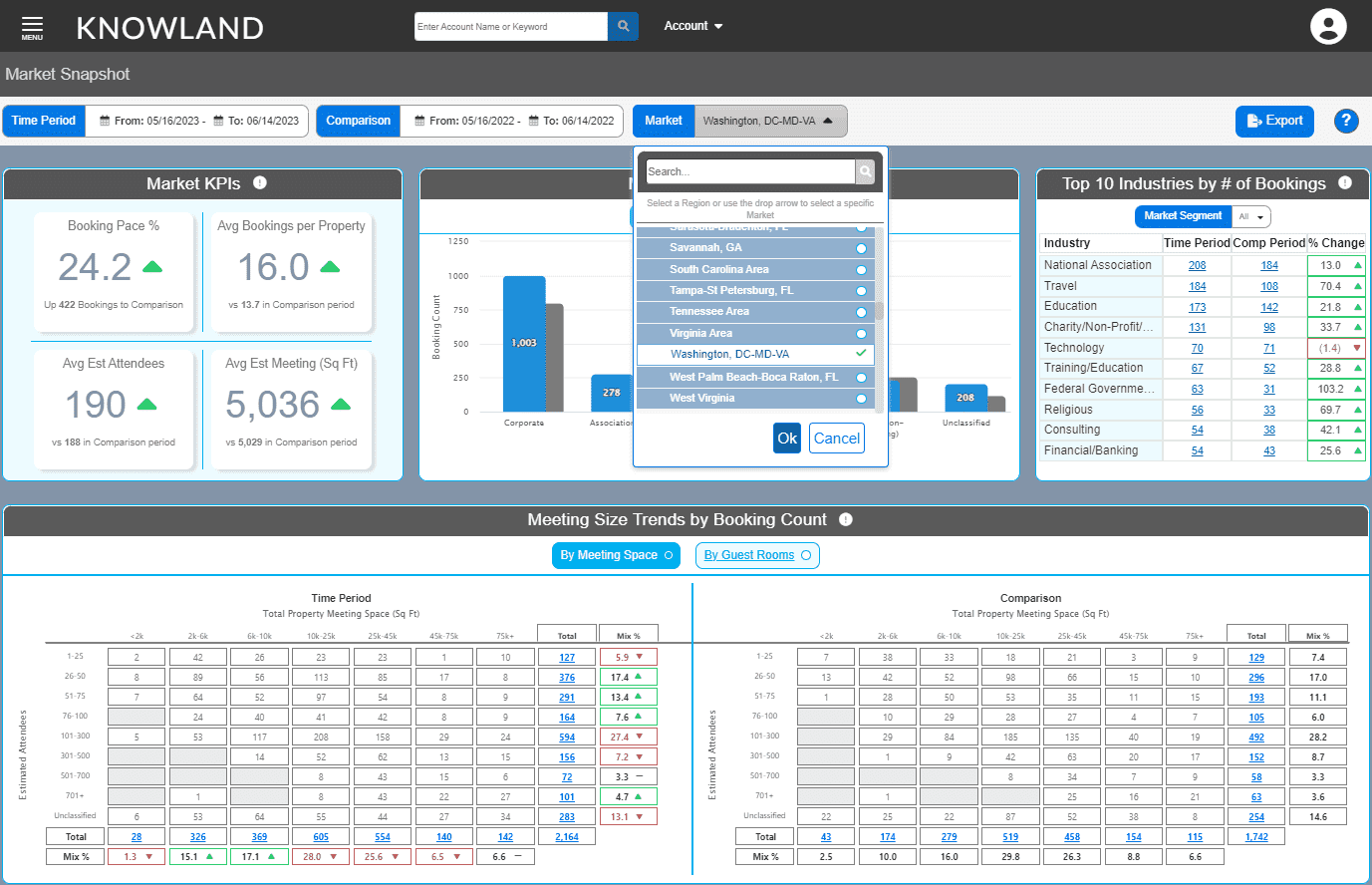 What about hotel property metrics?
Monitoring CVB hotel metrics allows destinations to assess their member hotel occupancy rates and the average daily rates they get from STR. Leveraging this combination of data gives another point of reference when working with hotels to provide insight into event capture strategies.
Identify Attractive Business and Industry Segments
Research the industry segments for driving new visitations, including meetings and events. With a market research tool like Knowland, destinations can identify the segments driving revenue in competitive markets.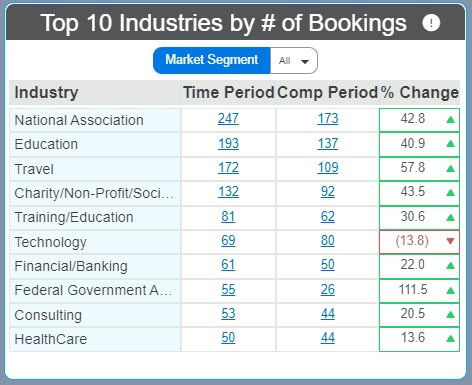 Incorporate Events Data for Better Targeting
Informed by market data, destination marketing organizations can begin to target new group business. This is where actualized events data comes into play. Use the following methods to source and book sustainable business.
Identify the Right Target Groups
Destinations can leverage data to find groups that host events in similar markets and venues. The right database will provide insights into group size, types of events booked, and market preferences. Knowland's search tools make it easy to discover ideal accounts. Here's how to get started:  
Define the needs you'd like your visitors to fulfill. For instance, are you looking for a large-scale event to fill convention centers or to support member hotels? 
Enter market specifications based on your market research to view the accounts and functions they hosted.
Select any attributes you want groups to have.
Browse and identify new targets.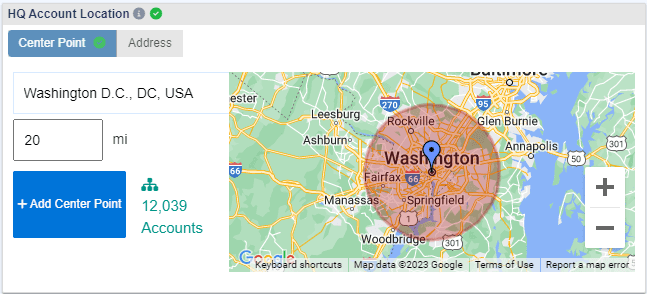 Understand Target Group Event Preferences
Establishing a connection with prospective visitors takes time and effort. By telling an engaging story, you can position your destination as the perfect location based on their preferences. Once you've identified target accounts, meetings and events data can point to patterns and trends to help you create a narrative. Gather data on your target customers, such as:
Booking preferences
Group size
Company headquarters
Past functions and recurring events
Using this information, destination experts can highlight meeting and convention venues, accommodations, and amenities that align with the target groups' preferences.
Capitalize on Large Events in Other Markets
Destinations can identify recurring events in similar cities using Knowland's search tools. They can view the booking account to plan to pitch their city as an exciting alternative. 
When connecting with meeting professionals and event planners, it's practical to have background knowledge of their previous bookings. As you network and plan potential FAM trips, discuss the specifics of past events and how your community can improve them. Additionally, communicate incentives unique to your area. Meeting locations are flexible when paired with enticing offers, such as specialized rates.   
Enhancing the Economic Impact of Events with Knowland
Knowland provides valuable solutions to help Convention and Visitors Bureaus maximize the economic impact of events held in their destinations. Our solutions help destinations attract, host, and support events that generate substantial economic benefits for their communities. Along with the efforts above, you can use Knowland to further increase the economic impact of events:
Determine the Most Lucrative Deals – Use Knowland to estimate the revenue potential for a particular event. The platform provides an estimated number of attendees, rooms booked, and square footage used. Based on your rates, you can gain an understanding of the most lucrative opportunities. 
Boost Overall Market Activity – Consult local businesses on their capacity for event-related services, such as transportation, catering, and entertainment. As you develop a marketing strategy, prioritize the groups who historically utilize local services you can offer. As more of these groups visit regularly, it can boost the local economy, create jobs, and generate sustainable business for local hospitality establishments.
Overall, utilizing Knowland's tools can significantly increase the economic impact of events held in their destinations. CVBs and DMOs can help a region grow by focusing on suitable business events, networking with meeting planners, and supporting local businesses. As a result, they're driving significant business growth that positively impacts hotels, convention centers, and the entire community. Get in touch to learn more.