Last week, STR reported on ADR for group room rates in high-end hotels in the US, which increased 4.4% in 12 months. STR clarifies that the group room rates it reports were negotiated as far back as a few years ago and room rate increases for all US hotels (all chain scales) is markedly less, at 2.8%.
The markets with the highest group room rates included New York, Maui, Florida Keys, and Hawaii/Kauai, among others. Markets with lower group ADRs included Norfolk/Virginia Beach, Buffalo, Chattanooga, and Tulsa.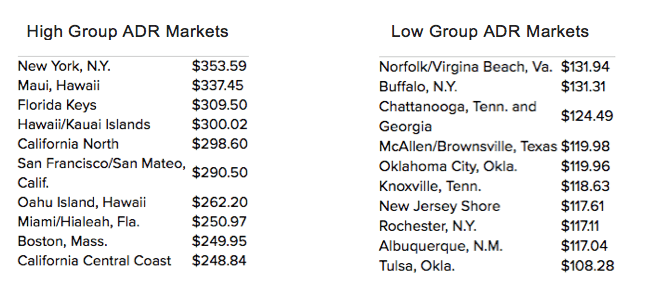 However, STR poses the question: Does high ADR for group room rates reflect group performance in a specific market?
In the same article, STR mentioned that demand for group rooms remained relatively flat, only increasing 0.8% from May 2016 to May 2017. While average room rate cannot inform meeting planners about performance in a specific market, data on actualized group bookings can.
Knowland investigated group market performance for the most active 300 groups in the US that met in hotels in Upscale, Upper Upscale, and Luxury chain scales in 2016 and 2017. The leading markets in number of actualized events in 2017 YTD are:
Washington, DC
Chicago
Los Angeles
Boston
San Diego
Orlando
So far this year, these markets show similarities to last year's top markets for group meetings and events among the top US groups, with a few variances. The top markets in 2016 were: 
Washington, DC
Chicago
Atlanta
Dallas
Los Angeles
Boston
Within the same data set, markets with high group ADR did not reflect as strong numbers of actualized events, with the exception of Boston. Markets such as those in Hawaii and the Florida Keys showed some of the lowest event counts. Even low-ADR markets like Albuquerque, Norfolk/Virginia Beach, and Buffalo showed higher event counts within the top groups than in those top-dollar destinations. New York, the market with the highest group ADR, lags far behind in 2017 when comparing its total actualized event count to that of top-performing markets like DC and Chicago. NYC is only seeing about 12% the number of groups as these markets, which could logically be attributed to stronger transient bookings that yield even higher ADRs. 
Year over year, Knowland has noticed a slight increase in number of overall actualized events, consistent with STR's report of relatively flat demand for group rooms. This is consistent from market to market, with no destination showing an unusually strong spike in number of total actualized events. 
STR advises meeting planners to be flexible on timing and location in order to get the best deals on group room rates. The data on actualized events, however, illustrates another takeaway loud and clear: They already are.
What other stories can big data tell us? Click here to learn more.