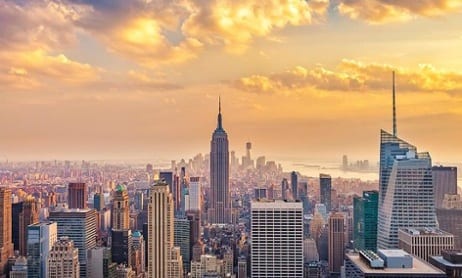 The US hotel construction pipeline continues to increase – currently up to 24.4% over 2015, according to Hotel News Resource. Cities such as Nashville and Seattle are seeing year-over-year (YOY) changes of more than 100% and 200% respectively (STR Sept. 2016). Total in-construction supply, however, is most concentrated in New York with nearly 16,000 new rooms being added to the market.
With lots of additional space competing for group business, how do you focus your prospecting efforts to bring in the right groups while still matching your parameters for revenue maximization?
Using New York as an example, our team at Knowland dove in to our group database to deliver our top three tips to help you focus your prospecting – no matter what the competition looks like.
1. Focus on new markets.
While markets typically source the majority of their group business locally, the competition for this business will get tougher as more hotels are built in the market.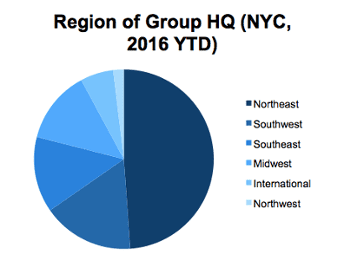 Year to date (YTD) in 2016, 32.7% of the New York market's group meetings business comes from within the state. But what about the remaining two-thirds of New York's group business? Because these opportunities may not be as heavy prospected by sales teams at newly constructed NYC hotels, exploring new markets may mean less competition.
For example, 16.5% of groups that have met in New York in 2016 come from the Southwest region. Another 13.2% come from the Midwest. By being aware of group headquarter locations for accounts that come into your city, you can better direct your sales efforts when looking to outside markets for new business.
2. Focus on the right subsets.
Traditionally, groups in the corporate market segment are strongly pursued, and rightfully so: Corporate drives the majority of group business in markets across the globe. As new competitors enter into a city, it is therefore likely that they will be prospecting for the same local, corporate groups.
How can hotels get an edge on these competitors? The key is breaking group bookings down to subsets. Knowing whether pharma, for example, is actually driving significant business or not is a crucial starting point to reach out to new groups outside competitors' limited vision.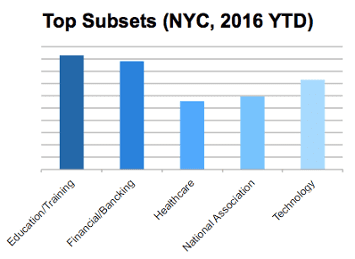 In New York, the drivers of group business are indeed corporate-leaning, the top three being education/training, financial/banking, and technology meetings. Surprisingly enough, though, ranked just under these three for highest event count in 2016 are National associations.
While some group subsets are trending down YOY, financial being one of them, subsets that have recently surged include healthcare and travel. Pay attention to these trends to make sure your team is deployed accordingly.
3. Focus on the size of a group's meetings.
Think groups that meet at hotels with tons of square footage of meeting space can't meet at small hotels? There's data to support otherwise. Pull more potential business from properties of different sizes where new competitors may not be looking.
48.6% of the groups that have met in New York in 2016 met in hotels with 20,000 square feet of meeting space or more. But don't let size deter you. Consider this: 59% of total meetings in NYC are small meetings and can fit in smaller spaces. Of only the meetings held in spaces with 20,000 square feet or more, 50.2% are small meetings.
Remember that where a group has met in the past does not necessarily determine whether or not they're a good fit — literally — for your space. How much square footage do they actually use? Keep your focus on the size of the meeting as your parameter, not the size of other properties.
Next step: Start calling! There's no time like the present to develop relationships that can put you one step ahead of the competition.
Have questions for us? Want to learn more about where the data comes from? Click here to contact us.