Selling hotel meeting space can be challenging, especially in today's competitive business environment. From short-staffing to changing customer expectations, sales professionals face various obstacles when soliciting business for their hotels.
This blog explores some of the most prevalent challenges hotel sales managers face and provides actionable solutions. Whether you are a seasoned sales professional or just starting out, these tips and strategies will help you close more deals, exceed your targets, and grow your hotel's revenue. So, let's dive in and learn how to overcome the challenges of selling hotel meeting space.
Common Challenges Facing Hotel Sales Teams
In a recent Knowland webinar, sales leaders learned how to:
Leverage event data to fill need periods by date, and day of the week

Unlock the selling power of account booking behavior

Understand best practices for monitoring competition

Build strong connections based on target booking preferences
We asked attendees about the data and tactics they leverage daily during the event. The poll revealed the following sales challenges.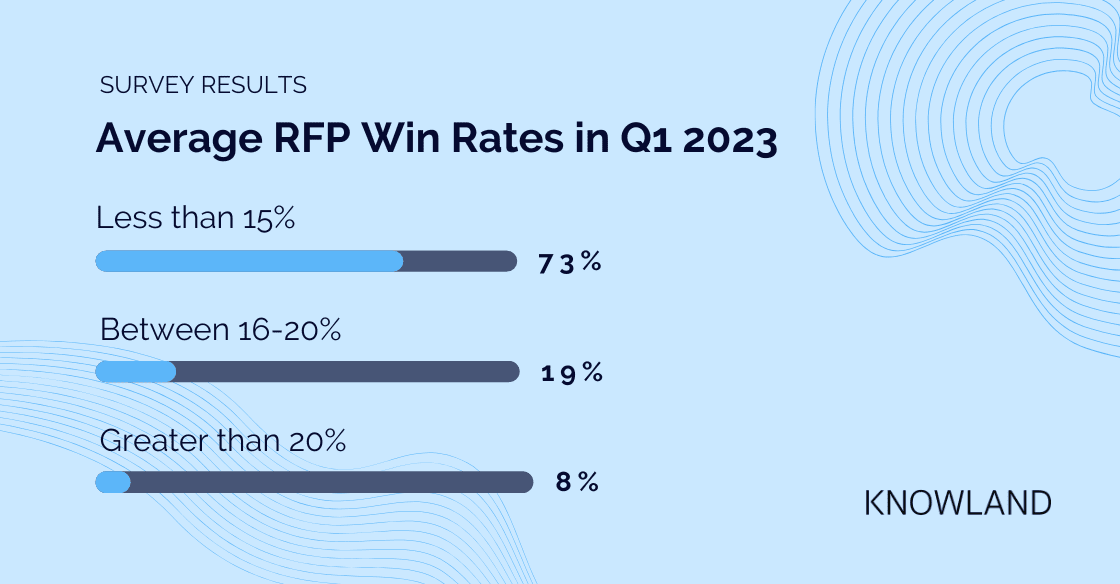 1. Average RFP win rates
73% of respondents had a 15% or less win rate on RFPs indicating an industrywide trend. Since recovery, many hotels are inundated with RFPs, but not all RFPs are created equally. Meeting planners don't always vet venues before sending RFPs. That means sales teams may be faced with an influx of requests that may not fit their needs. 
Smaller teams and high demand have made navigating requests more challenging– especially when responding with personalized proposals. 
The right tools help boost prospecting efficiency and can help determine how much time to spend on an RFP. For instance, looking at the account's historical booking behavior for each RFP can help isolate the best fit for your property.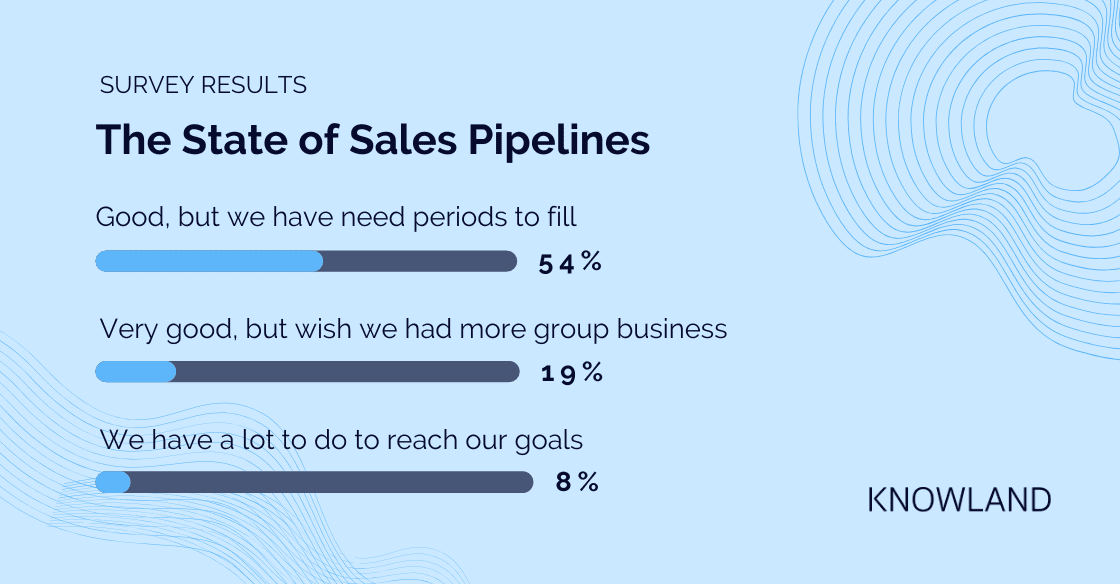 2. Filling need periods
Need periods are a daunting challenge. 54% of respondents had need periods to fill, while nearly 20% struggled to build their pipeline.
Respondents indicated that they use a variety of strategies for filling their pipeline, primarily by leveraging meeting data. By incorporating Knowland into those strategies, hoteliers can identify groups that:
Have previously met in their market

Booked with competitors during need periods

Met in like markets
With this insight, teams can move beyond the limitations of internal systems, quickly fill those sales pipelines, and return to profitability.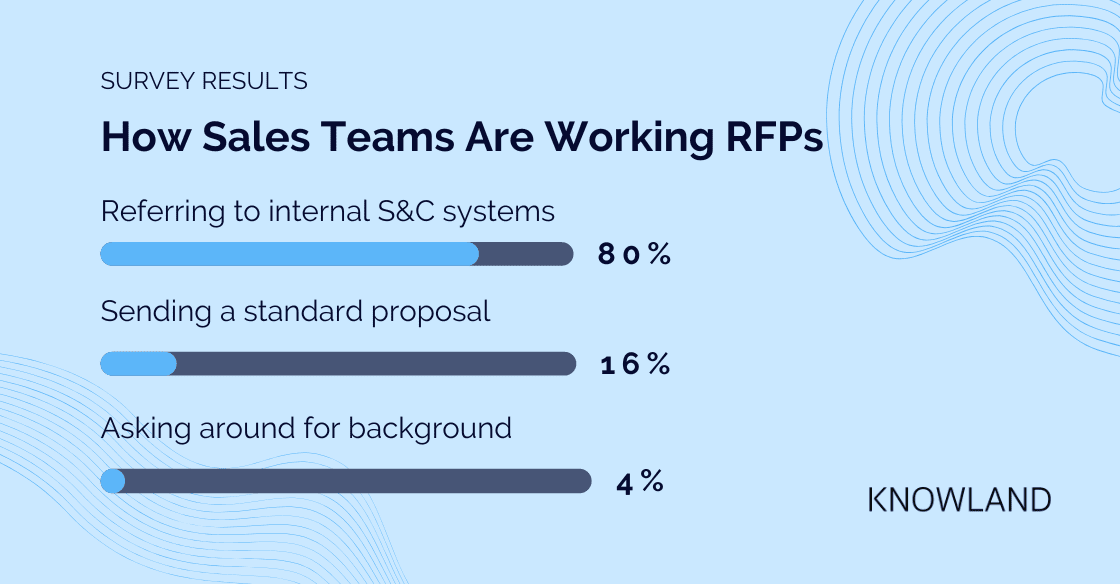 3. Leveraging internal data systems
A significant challenge for hoteliers is their limited access to data. 80% of survey respondents look to internal systems for booking history. Therefore, if you did not bid it in the past, much less win it, there is no detail or information to build a response or differentiate your proposal. 
That's where Knowland's booking data comes in. Unlike internal S&C systems, Knowland gives you access to booking and behavioral data for nearly 850,000 accounts. Keep reading to learn more about leveraging third-party account data.
4. Leaving money on the table
When responding to RFPs, 16% are pushing out a boilerplate proposal because they don't have time for anything else, leaving money on the table. From a sales perspective, shorter lead times pressure sales' ability to respond quickly and effectively. 
Meeting and event planners used to send RFPs to a handful of appropriate venues for their meetings. However, the staffing shortage may have resulted in fewer responses in the past two years. The influx of RFPs sent to 10 or 20 venues results in too many requests for proposals that require days to produce. 
The Hunt for Meetings and Events Business is Ramping Up 
27% of survey respondents are explicitly looking for more meetings and events to fill their pipeline. A Duetto survey reported an even higher number, with 59.5% saying they'll rely on group business to optimize revenue. 
These numbers weren't a surprise to us. Meetings and events business was up 80% year-over-year in March 2023. Here's how to take advantage of the demand when selling hotel meeting space:
Refer to event data to fill need periods
A historical events database provides unique insights into where and when groups meet. It helps sales teams leverage meeting data by ensuring they can quickly fill those sales pipelines and return to profitability. 
With Knowland, sales teams can further research account bookings by time and market. Analyze the venues they chose and determine if they align with your chain scale, location type, and conference room capacity. Lastly, narrow down your search based on your target market segment to find potential leads quickly.
Build a story to differentiate your property with account history data
It can be challenging to build trust with new prospects. A compelling story can set you apart from the competition when building relationships. Using account history data can be a great way to do this. Gather data on your target customers, such as:
Brand and chain scale preferences

Group size

Meeting space booked

Market preferences 

Past functions 
Look for patterns or trends to help you create a narrative about why your venue is the ideal choice for their next meeting or event. Use this story in marketing material, sales pitches, and other communications with potential customers. Teams with more resources might consider creating case studies that highlight successful events. 
With a compelling story backed up by account history data, you can help book more meetings and events for your hotel venue. 
Follow your target accounts and assign opportunities to team members
To maximize efficiency, use Knowland to monitor your target accounts. This seemingly administrative task helps you stay current on their latest booking patterns – and potential opportunities. Then, use Knowland's team management tools to assign accounts to the appropriate team members. 
By monitoring target accounts, you can see new activity and competitor engagement and build accountability in your team for account acquisition and penetration goals.
Calculate the value of your selling time
Hotel sales professionals can boost their productivity and optimize their sales team's performance with our free sales calculator. Understanding the value of each sales representative's selling time is crucial–especially with a smaller staff. You have leverage against operational distractions that pull you away from driving revenue. It also gives your hotel management the view of selling opportunity costs when sellers spend too much time serving accounts.
Comparing the performance metrics of each team member allows sales leaders to identify the relative value of time spent selling for each contributor, providing invaluable insight for future sales strategies. Moreover, optimizing your team's selling time can help sales reps overcome using sales-limiting, standard proposal templates. Your team will have the flexibility to personalize each proposal and stay ahead of RFPs.
Cross-train sales and revenue managers
With teams stretched thin already, maximizing sales productivity isn't easy. The Duetto survey identified staffing as one of the biggest industry challenges in 2023. 
It's hopeful that group demand continues to stay high. But how are teams managing the influx of business with fewer team members? The answer is simple; sales leaders have realized the importance of cross-training sales and hotel revenue managers. 
By providing revenue managers with a better understanding of meetings business and training salespeople on the formulas, data points, and revenue management systems that revenue managers use, both parties can focus on growing their property's share of group business while increasing revenue. 
Filling Your Pipeline—and Keeping it Full in 2023
Using the right data platforms in your sales process can help conquer your sales challenges. With Knowland, your team can access account booking data from almost 20 million events to fuel your sales pipeline. Fill out the form below to learn more about selling hotel meeting space with Knowland's pipeline generation platform.